2021 Update: Please note, we no longer meet at Borough Market due to ULEZ restrictions. We now meet at the Bike Shed in Shoreditch. Please see here: The Weekly LB Meet at The Bike Shed! - Ride-outs & Events - londonbikers.com
[Drum roll…]
The new Wednesday Night Meet is at…
Borough Market!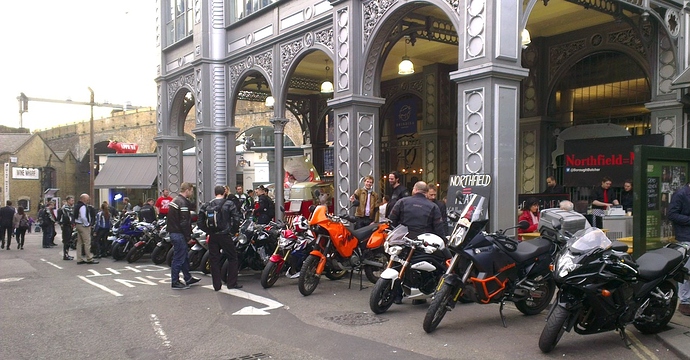 Credit: http://www.beginnerbiker.com/2014/05/good-london-biker-meetup-borough-market/
It's a cracking part of town, a stone's throw from our previous summer venue at the Cubana and couldn't be any more bang in the middle of London if we'd have tried. It's a load better than previous venues, but might not look it in the photos, it's one of those venue's that just 'feels' right. You'll have to be there to understand.It's got so much character and is so 'London' that we fell in love with it straight away. Find out the full details here, and I look forward to seeing EVERYONE there! No excuses accepted, be there, or be a public transport user!
Please give this your full support, we need your help to build something special for this year. We hope this venue will bring everyone together and make for a brill summer!
The first night is the 4th April, so please put this night in your diaries, tell everyone to come along (they don't have to be a member of LB, this is for all riders in London!) and we all look forward to seeing you there!