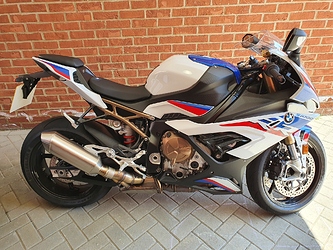 OK so I finally got around to testing the 2020 BMW S1000RR and to say the least I was not blown away, at least not enough to part with my cash. I was a bit nervous as I have never ridden a 1 litre and all the reviews of the bike describe it as more than capable. They let me ride the m sport which is the top spec of the lot.
So firstly compared to my gixxer it is a physically bigger bike. I am 5ft 9 and at stand still I am on my toes, as compared to completly flat footed on the gixxer. However with one foot down at say traffic lights, the slight lean allows my foot to be flat which is still good. The geometry feels more upright, so even more naturally off my wrist. One of the reasons I chose the gixxer over the CBR, Daytona and R6 its because it was the least wrist hand stand bike, so this is a +++ for me. I also felt I was sat on the bike as opposed to in the bike so better field of vision when on the road +++
Out the showroom immediately you notice the dynamic dampening control suspension, ok yeah that was really good. With road mode selected you feel like you riding on air and that is another ++ for the long rides. You just float along lie a fairy after a spliff
Electronics: lots and lots of options but my personal opinion is that its like a new phone, first month you are blown away with it, then you just leave it with the default settings cause all else is just faff. So didn't really let it influence my decision. One thing that is pleasant is the quick shifter just need to get accustomed to the spring feel when shifting down as the leaver still moves down a bit when in first, but i recon it will come into its own on the track.
Started off in road mode as recommended by the dealer, nice and easy did an overtake in second gear for the revs, mid way through the rev limiter kicks in. I thought ok that cannot be right. Continued along making progress then it happens in 3rd gear again. I thought ok must just be me , never rode a 1litre before and I am accustomed to the revs and sound of my bike so I know when to shift.
The rest of the ride I just keept short shifting to avoid it happening again, which made for a really boring ride. A few times under engine braking it was a bit jerky, but i put that down to my heavy hand on the the throttle. It's really light as opposed to the gixxer where you have gotta choke that chicken for it to move. I guess that is what fly by wire feels like.
Got back not impressed to part with my cash for next to no difference, and the sales guy is like yeah thats expected, before the first 600 mile service the bike revs are limited to allow it to break in
. Seriously why would you give a rev limited sport bike to test.
Anyways they did say they are happy to rack up the miles do the first service and set it to beast mode. Then they happy to give it to me for a weekend to have a proper go, which is a really really generous thing. If that addresses the power issue then they might convince me to part with my cash.
I must admit there was a certain satisfaction getting back on my bike. 5 years with the same bike you know every bit of it.
Any RR owners out there, whats your take ??