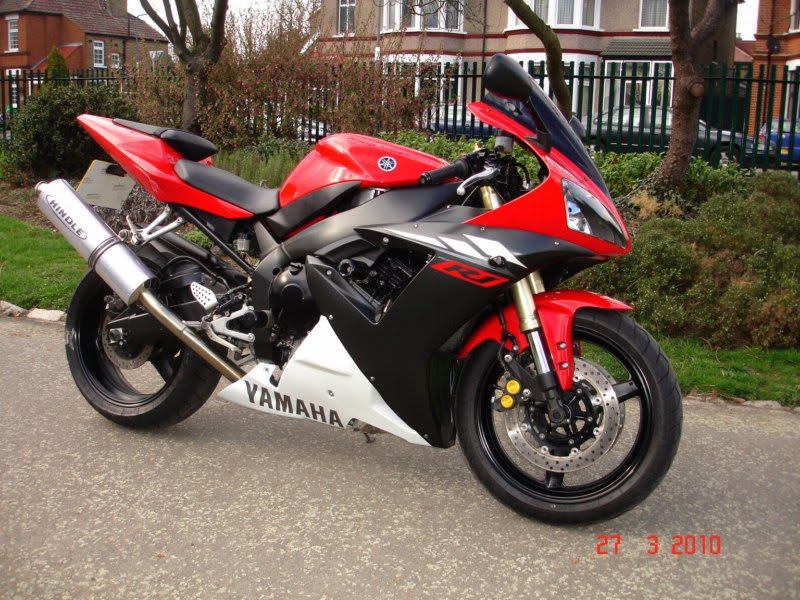 As you want to find it: low miles (14k), very clean, service history, alarm/immob, HPI'd, mot till May! - £3200
£320.00 and a long slow hand job.
That values your handjob at just shy of £3000 - better be a good one.
Oh, I can assure you, its the best handjob ever. Man that chilled tapioca feels good!
i quite like it! wonder what the bank manager will say?
something like this - hahahahahaha no?
Too late m8! Its just sold…
I bet you'll be sad to see her go?
What are you getting instead?
not suprised, it was a bloody bargin!!
agreed, I have just paid that for a 2002 600 honda with 20k+ miles!!!
not overly keen on r1/r6 to look at but really really like the look of that. Striking colour scheme, someone got a great deal
doubt it;)
its sold now, more reason to pursue a superduke or FZ1!
bankers are w…!! Im suprised your not heading down the sporty route!
nah, sportsbikes arent the one for me really, i want something i can have fun on solo but if i take the missus on the back it will be fun but comfertable for her, not sellign the SV tho!
:w00t:
I've been trying (not too heard mind you) to sell it for about a year! The road tax is due, the service is over due, the insurance runs out on the 28th. I figured better to let it go quickly than re-insure it and then pay to amend the policy. Same with all the other stuff. I might buy and old sports tourer. Having £3k sitting in the garage is a waste. An old CBR1000f would do me.
Great bike, glad I took that out rather than my proper bike this morning. I've had it a year longer than I thought I would have it. Believe it or not, I kept getting bored with it because unless the conditions were 100% you're holding back everywhere! Evening this morning in the dry I was getting the odd bit of wheelspin…
hence why i have near enough taken the blade off the road, there is just to much power and your always tempted to use it.