The boys in blue >Rizla are the new Suzuki sponsors for 2006.
heres the link
http://www.suzuki-racing.com/news_page.asp?OBJ_ID=2681
Attachments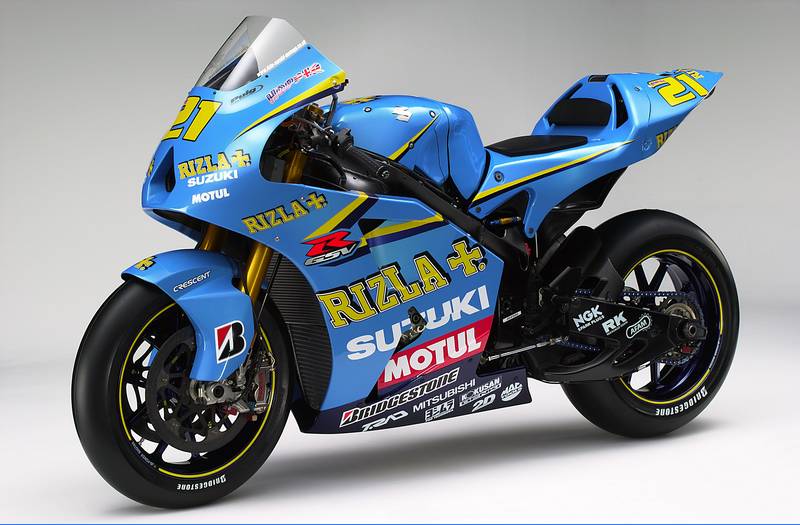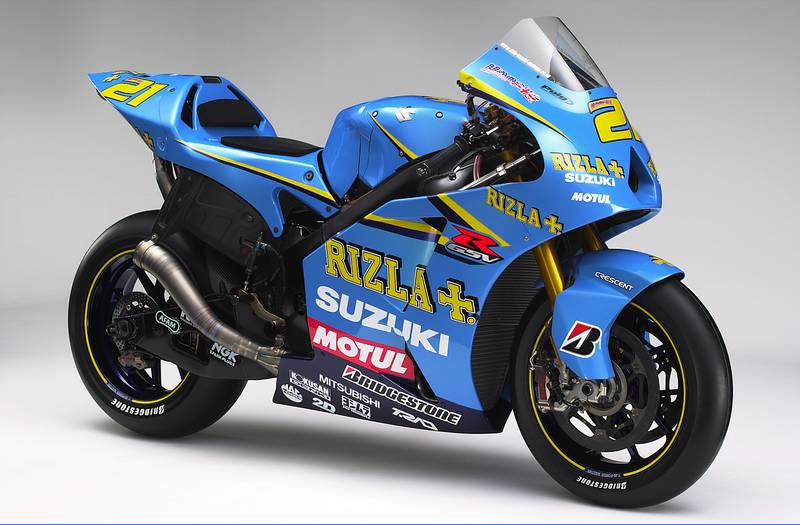 It's still a quirky looking bike, but I'm excited, it can only be good! More money hopefully means better development and thus better results! Though with only a year left of the current GP format, I can't see them pushing the boat out.
Bike looks better than it did, IMO, though I bet Tokyo Joe is gonna be pissed…
Whats going on the right hand side above the exhaust? That big black panel. What is it?
Was thinking that myself. Perhaps some anti-turbulance shield? Or spare of placky they couldn't find a place for after the last strip-down.
Anyway, here's my brother's response to the same pictures:
"Sweet, but would still queston the choice of Baby Blue on something that aint cuddly, soft, and sleepy in the slightest. Try falling asleep on the sofa with that thing on your chest and it won't exactly be the most peaceful rest!. Surely new colours like "S**t Your Pants Silver" or "Out of my Freakin Way Orange" would be more appropriate.
Rizla's continued sponsorship of GP seems now to be flying in the face of their new corporate marketing strategy. They are apparently going to support a new road safety initiative with the slogan "Rizla does not encourage the use of speed, just chill out and take it easy man", or so I heard from a man in the pub."
Made me chuckle.
Me Pissed ? No way … I've always disliked the Rizla paintjobs down the years, so it's a relief that they haven't gone and painted it in new colours I do like !!
Back in 1996 I had my Blade painted in Rothmans colours even though Repsol were the sponsors for Honda.
I still miss my old Blade … wish I had never sold it
It was special …
Revalved forks and shock
972cc big bore, gas flowed head, bigger valves and springs,race clutch, full Akra system, etc etc
hours and hours on TTS dyno … 147bhp in 1996 !
Nice Joe! I was just alluring to the fact you went and built a stonking GP-replica, then they go and change the scheme! But it doesn't detract from your bike at all. Infact I like your bike a little too much! Hehehe…
Joe's bike looks much betterer!
The powder Blue Rizla bikes look like a ladies handbag.
Don't Rizla do a silver paper now? That would at least look half decent!
2 or 3 years with an unreliable, under-powered heap of rubbish GP bike…and now THIS mofugly paint scheme…
Will the humilation NEVER end for Suzuki in MotoGP?!
Gregman, the fugly paintscheme is a blatent attempt to draw people's attention.
You can't have visitors walking into your garage and shouting "MOLE"
Suzuki GP do suck, this we all know. Will they do better when the rules change for 2007 and 800cc engines come into play? Who knows, Rizla have some money, but whether it'll get used to develop a good bike is unknown. Personally I think Suzuki should be allowed to run their 990cc engine in 2007 as an 800cc job, I mean, it'll have the same power as everyone else, right?
I also agree that they should have painted the bike silver, like the Crescent Suzuki Kagayama Express they did a couple of years ago, numpties!
but the suzuki grid girls are great…better than the bike…
Now that's a ride I could go for… the bodywork, the fasteners, the shocks, the valves, and the exhaust, oh the exhaust