I dont usually bother with crash bungs . Fit and remove other peoples plenty , but not on my own bike . I have noticed that when a longer bung is used to crash with,it can make a right nasty job of bending the bolt that holds them in place . They can do a bit of damage and take more work than you would want to get them off the bike again . Soo I recently got a bargin brand new superduke set of bungs and R+G mountings for a tenner from fleabay .And they are very long . So I got thinking … And have fitted them with shock absorbers and extra strength … I think .
I made up a washer stack of hard/felxible/hard /flexible washer stack .
Stacked that up on a bolt longer than the standard kit has …
Then once thats shoved into the bung its a perfect fit , A slight tap home with a hammer and punch and its all down inside twith plenty thread sticking out the end .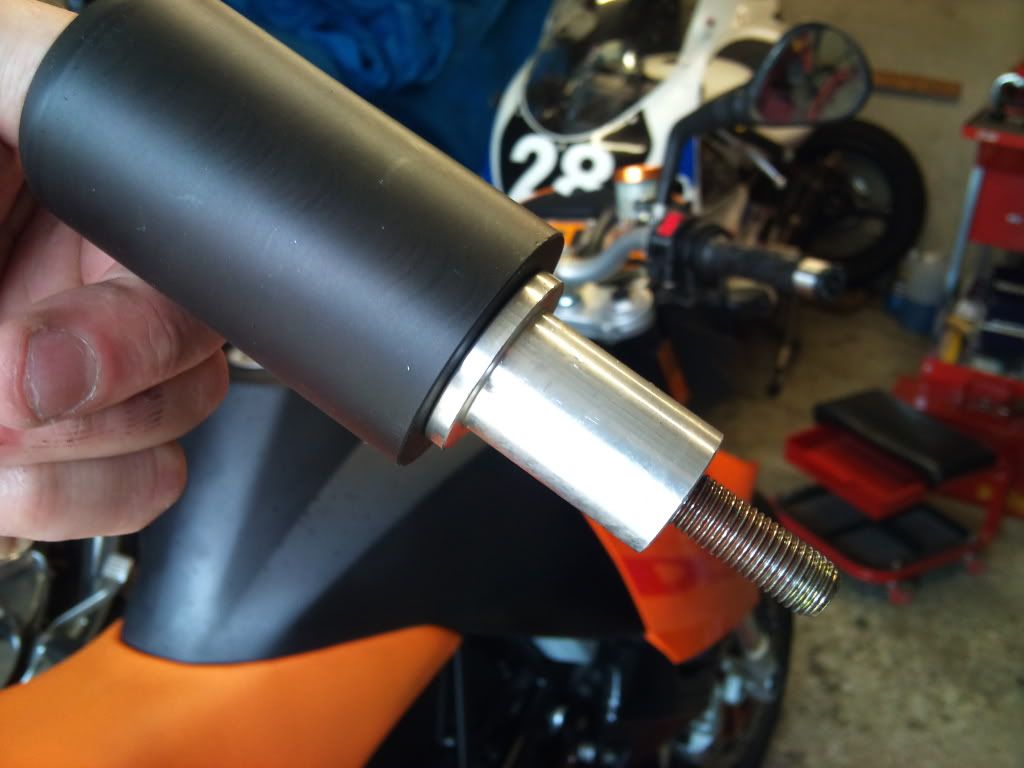 Soo I have and extra inch or so more bolt up inside the actual bung and its surrounded by rubber . Its a issue thats less of a problem on the duke as the bungs do not mount directly to the bike , they go on via a bracket that you can remove if the bung gets so badly damaged it wont come off . This idea is more relavent to the likes of the CB1000r like Andys where they go into the engine itself .
So what do we think of this plan ?? Is it good thinking or can someone see an obvious mistake ?