Had an advisory for a cracked number plate on the MOT last year so might as well get a new one. Ordered them online from a reputable seller, Halfords. https://www.halfords.com/motoring/services/replacement-number-plates-made-at-halfords.html Note that they can supply car or bike plates.
Stepped through the process, ordered and pay for the plates.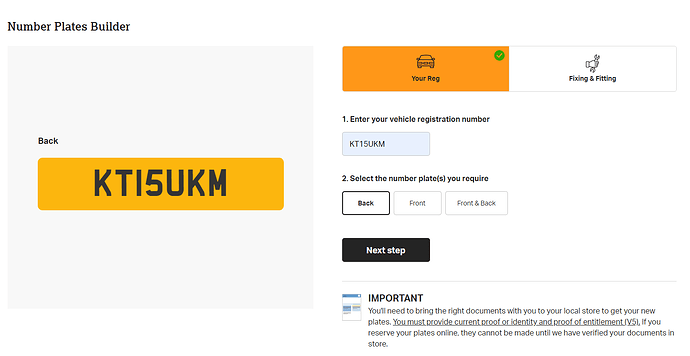 Note from that page:
Halfords offer in store:

Plain Number Plates
Scottish Number Plates (Scottish Stores)
Travel Number Plates (UK Stores)
Green Number Plates (Uk Stores)
Welsh Number Plates (Welsh Stores)
Irish Number Plate (Irish Stores)
Southern Ireland Number Plates (Irish Stores)
Scooter Number Plates
Bespoke Number Plates (Can be ordered directly from supplier)*

Once you have purchased your plates online - you can collect your plates from your selected store 1 hour after reservation (Please don't forget to bring your documents, otherwise we can't make your plates).

When you arrive in-store you will be able to choose from the plates above
So, I turn up to the store today with my documents, expecting to wait for a little while, while they make the plate.
Turns out they only make standard car plates in store. Bike ones they have to send off for and it takes 4 days. Good job I wasn't in a hurry, but would it have killed them to state that on the website?