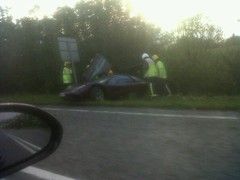 Rowan Atkinson is in hospital after crashing his McLaren F1. The accident happened yesterday evening on the A605 in Cambridgeshire. Atkinson is believed to have lost control of the vehicle, before spinning off the road and hitting a tree.
Although the car caught fire (though from the picture, posted by a PHer and picked up by both the Daily Mail and the Sun) it doesn't seem that serious), it is reported that the 56-year-old actor walked away from the scene and was looked after by another motorist.
He is thought to be suffering from a minor shoulder injury and is expected to be released from hospital later today.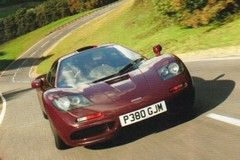 There's no word on the state of the car, however, other than the fact that Cambridgeshire fire crews brought the fire 'under control' by 8.13pm. We wish Mr Atkinson a speedy recovery - and just as importantly we hope the car's okay…
http://www.pistonheads.com/news/default.asp?storyId=24076&utm_source=newsletter&utm_medium=email&utm_content=html&utm_campaign=2011-8-5