After far too much time offline, the famous LB photo galleries are now back online! We've developed a new website to bring back the complete archive of photos we've taken over the years and to enable us to bring new, super high-resolution galleries to the community.
Long-time members will know that LB has a very rich history of publishing our own photo galleries, going back 17 years, capturing everything from our own rideouts, to events we've hosted and attended, and of course the hundreds of galleries we've published as accredited professional photographers for various racing series, such as MotoGP, WSB, BSB, MX, etc (we're still official suppliers of photography to the British Superbikes race series, thanks to the hard work of the fantastically dedicated and talented of Aaron Scott).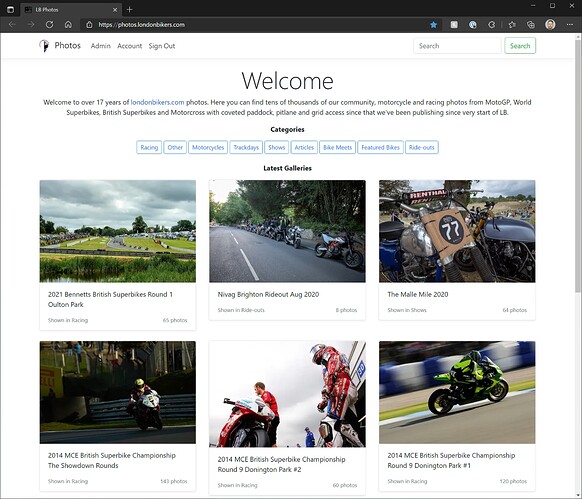 Get involved
You can leave comments on galleries and photos as before. You can sign-in to the site using your LB details (SSO for the techies).
Development
The site is in constant development, with new features being added all the time. But for now, please feel free to reminisce and go back through the archive. There's some real gems in there
Photo Migration
The eagle-eyed amongst us may also notice that there's a gap of a number of years where we didn't publish any racing photo galleries on the LB site, but we did publish them on another, racing dedicated website that we're in the process of migrating the photos from, to our new Photos site. We'll then close that other site down and redirect it to the new site.
Open-source
For those that are interested in such things, the source-code for the site is open for contributions: Calling all devs: View our source code - Off-topic / Announcements - londonbikers.com
Getting there…
Link to the new Photos site can be found in the top-right of the site: