and genuinely gutted my Mum hasn't bought me an advent calender :crying:
Lol, I know somebody who's 39 n got an advent calender :laugh:
Well it could be worse . I was given an advent calendar a few years back that contained dried fruit, nuts and other assorted rabbit food . You can imagine the daily disappointment that gave .
L'Oreal and Selfridges made an advent calender that had makeup behind every window jizz but it was like £100 and sold out within minutes :pinch:
I got a German kinder egg one with a toy on the 25th door, and I cannot wait!!!
I'm 29 and I still hoping she would buy me one…but I want Jelly sweets in mine
My sister's 39 and still sends out a xmas list to everyone !!!
She buys me one every year, last years was Batman
I guess she doesn't love me anymore.
perhaps you aint getting am advent calendar cos she want to be sure what she bought you for xmas will still fit you by xmas
Awaits slap . . . . .
Now your older you can just wait a week or so and buy yourself one when they're reduced in price!!
Yeah like I'm going to buy my own, what do you think this is
There is only ever one advent calendar needed…and this is it, I use it every year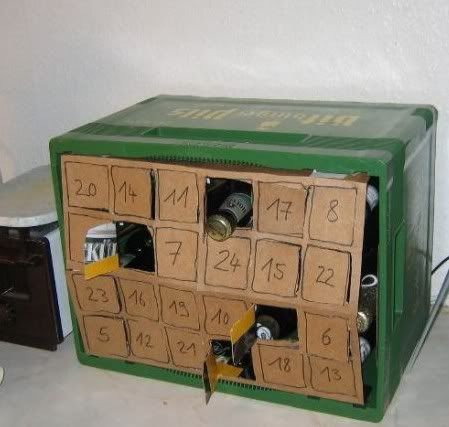 I tell you whats worse is the guilt, of not having bought my 5 and 2 year olds theirs… …still a trip to Winter Wonderland should fix that.
I'm 23 and asked my mum for a advert calender Dairy Milk of course !
at least could've gotten yourself a better German beer than Bitburger Pils…
(still trumps any non-German beer though, of course)
My m um said I can't have as of this year as I'm now 25 :crying:
I thought that was years ago! :hehe:
A certain someone saw this thread and text me to say they're on their way to buy me one
Nope, has it's advantages though, never ever been ID'd to buy booze