Up for sale, is my wife's Honda CBF500. Potentially a good little commuter hack or cheap first bike for someone.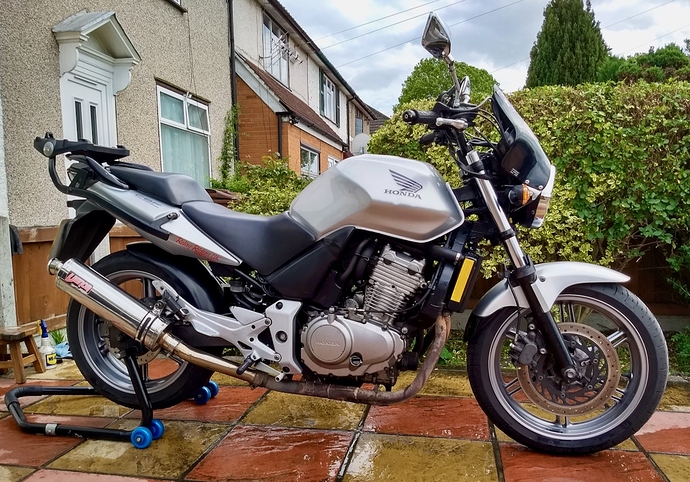 2006 model, ~64k on clock, little bit tatty, got a few scuffs, scratches, been well used, but has been maintained well with no shortcuts. It's lowered with a mod to rear shock and genuine Honda lower seat (original seat included in sale), ideal for short riders - my wife is 5'1" and handles it fine.
To revert the lowering, you'd need to replace the end link on the shock for stock one, slides the forks down in the yokes and possibly swap on a stock side stand.
Photo above is from a few months ago, will add some more update ones once it stops raining and we can clean it!
The good:
Got Certificate of Conformity and exemption from ULEZ sorted out with TFL - so no problem riding into central London.
MOT'd until May 2021.
Runs wells, been used regularly.
Has Givi rack, heated grips, Puig screen, Motad Venon can and stainless link pipe, rear hugger, fender extender and a rather nice Oxford analogue timepiece.
Hel braided brake lines front and back.
Key maintenance stuff has all recently been taken care of:
New rear pads in July 2020 (front are still fine)
Forks serviced (new seals) in May 2020
New genuine water pump fitted May 2020 (old one sprung a leak)
New battery Mar 2020
Starter motor serviced with new brushes Sept 2019
Michelin Road 5 tyres fitted Sept 2019 (plenty left in them)
New chain/sprocket June 2019 (@58k)
Rear shock was serviced and regassed when we lowered it in 2015 (@44k)
FWIW you'll notice the couple of advisories on prior MOT's have all been fixed promptly. Even the apparently deteriorating reg plate!
The bad:
Some minor cosmetic issues from a couple of stationary topple overs…
The tank has a couple of scratches on it and a tiny ding on side.
Engine and peg hanger paint looks bit tatty.
The exhaust got some scuffs on it.
Downpipes look a bit rough, but there's no holes or blowing.
Overall, it's good to ride away, perfect cheap hack for London commuting, with nothing pressing that needs to be fixed or sorting out.
Price: looking for about £1200.
Bike will be SORN and off road next week, so would prefer a fairly prompt sale.
I'm based in Dagenham, East London.