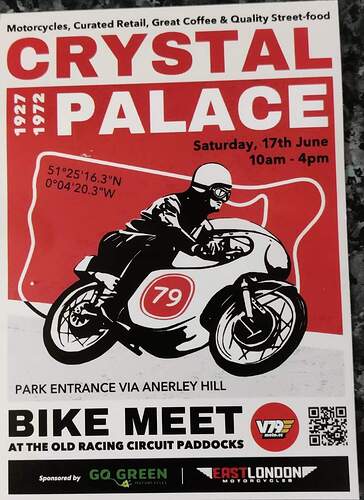 Crystal Palace Park Bike Meet, powered by V79moto
Custom Motorcycles, Curated Retail, Great Coffee & Quality Street-food!
Come join us on our next bike meet in Crystal Palace Park, this location was chosen due its rich motorsport history.
Crystal Palace Circuit is Britain's oldest race track and held the first race for motorcycles on 21 May 1927, to a crowd of over 10,000. Although the racing at the park stopped with the outbreak of World War II, it eventually resumed in 1953, until final closure in 1974.
The event will take place at the Race Paddocks in Crystal Palace Park, Anerley Hill, London, SE19 2GA on Saturday 17th June, 2023. From 10am until 4pm.
This is a family-friendly environment, where we celebrate the park's motorsport history and everyone is welcome, so bring your family, your friends and your pets!
Go Green Motorcycles will be on site to show their range of Super Soco electric motorcycles available at their dealership.
There will be a variety of food and drinks stalls from local businesses at the ready.