Full diclosure: I have no idea what I'm taking about when it comes to batteries and so on
---
This morning my BikeTrac sent me a warning notification to say my battery was low.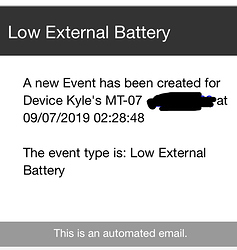 I only ride my bike on weekends every two weeks or so. I've seen "Trickle Chargers" on various motorcycle stores and wondered what people thought of them?
Would it be wise to get one, especially as I won't ride my bike much in the winter?
I keep my bike at my parents, 100 miles away in the West Country, and can't always rely on them to turn it over and keep it running to charge the battery.