Hi,
Bought this back in January, this is how it looked when I collected it;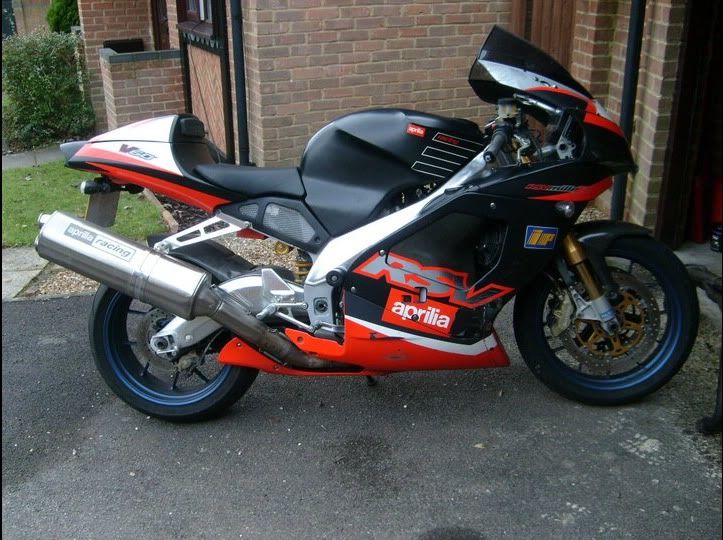 It had taken a spill on the right hand side, so had done a small amount of damage to the fairings, can and mirror (the crash bung took the worst of it)
I've had the whole bike repainted, fitted a new can and given it a clean up, went for it's MOT on Saturday, which it flew through, so has a years MOT.
This is the R model, so if you don't know what that means, it has the following goodies on it;
Ohlins forks
Ohlins shock
Ohlins steering damper
OZ wheels
Brembo brakes (MC, calipers and discs)
Braided lines
Lots of carbon bits
It also has Harris rear sets, a Laser deeptone end can, a shorty clutch lever and a tinted double bubble screen.
It's a 2003 on an 03, and has done 14500 miles from new, and had a full service about 3000 miles ago (invoice for nearly 600 quid)
As I said, it has a fresh MOT, but no tax (SORN) and I have the V5 in my name at my address, and there are 2 keys and 2 alarm fobs with it.
I have some history with it, and all of the handbooks and so on.
Reason for sale, is simply because I just don't like it, as it's physically a bit too big for me (I'm 5'9" with short legs! ;)), so have decided to sell it.
It does need a couple of little jobs doing to it, to finish it up, which are the following;
Can't seem to activate the steering lock for some reason (complete lock set on ebay is £60, if it's the worst case scenario)
Tried to arm the alarm yesterday, but that doesn't seem to arm now, but was working fine about 3 weeks ago when I last put it on.
The mirrors (which are brand new) are bolted on with 2 bolts each, there is only 1 bolt holding each one on currently (works fine and doesn't shake)
When the carbon bits were painted, the paint has sunk in a few places, so if you look up close, you can see what looks like pin holes in a few places.
And that's about it really.
I should also say that the R model is fitted with a short subframe, so you can't carry pillions on it, but I've converted this one with the full length subframe, undertray, pillion pegs and pillion seat, so it's now fine to carry a passenger.
I still have the original short subframe, exhaust hanger and standard can (you may need a large van and 2 strong men to take the standard can with you)
This is how it looks now;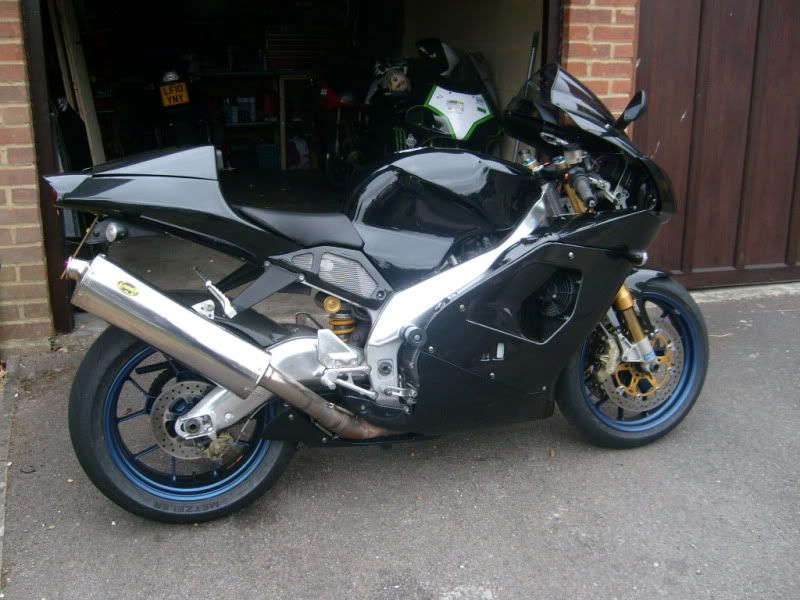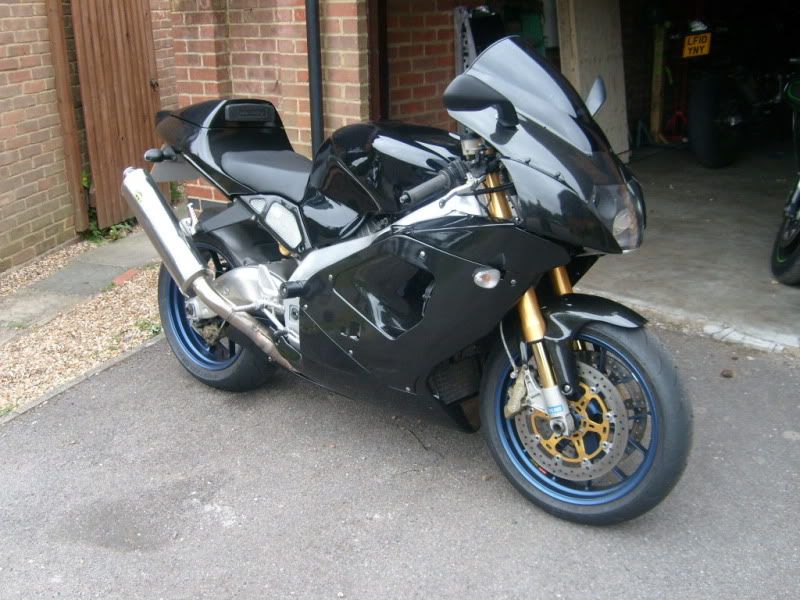 I've bought another bike, so this is taking up room, and I've lost all interest in it.
Bike is located just off j3 of the m3 if you want to come and take a look, or if you need a second opinion on it, then PJ from here knows it very well, so you could speak with him.
This is a cool looking bike, that rides and runs well, and I've put a lot of time and effort into it, so why not come and grab yourself a bargain.
£2100 ovno
thanks
Rich
07760 55 444 9
P.S. I'll be at BM tonight in case anyone has any questions about it at all.