Hello Everyone,
I've not been on here for a while, due to work changes, and more changes force me to pass on my lovely 2009 HRC Fireblade, which is NOT an oil burner, at 16,500 miles. MOT and Tax to February 2014. Used as a commuter, I don't ride the bike the way she deserves, so she has to go to a better home. It is a better bike now than when I bought it, it really is superb. I am sad to even think about selling it, I thought I'd have it forever, but circumstances change and I am migrating.I am in London, and buyer will collect.Price is reduced to £5,499.
I bought the bike from Doble's and I got it serviced there at 12,000 miles. FHSH up to that service. 2 keys, 2 alarm fobs, lots of documentation (ALL) MOT's service notes, etc.I changed the oil at 14,000 miles, and I cleaned the calipers and replaced pads in May 2013. (I am a certified Level 2 mechanic)I have never taken it on track (I really wanted to, but **** happens…)Valve clearance check and full service performed by Arthurbikemad from 1000rr.co.uk, (AWRudd.co.uk Excellent Mechanic) at 16,377 miles - No shimming required, nothing to note, all fluids replaced, calipers serviced, intake ports cleaned like new. Photographic evidence available.The bike is in great condition, looks beautiful, and rides perfectly. Bearings all good, chain and sprockets are good.Tyres on it now are Pilot Road 3 on front, bought new early this year due to puncture from riding through London, Power Pure on rear, because it's awesome and I am using it up.I have some sensible accessories added over time, as below, all standard parts included.Scorpion exhaust (road legal with Cat, so it is not TOO loud without baffle, and sounds lovely)Carbon exhaust infill panelPower Commander 3 installed at 16,377 miles, I don't ride very fast, so can't comment about overall power, but it runs smooth and is nice and responsive especially with the cleaned inlets.K&N filter installed with PC3.HRC dark high screenHRC Rear HuggerHRC Rear Seat CowlHonda E-seat (comfy seat)R&G Tail TidyR&G Protection – Aero bobbins, white- Fork Sliders- Bar ends- Radiator guard- Swingarm bobbinsGB Racing Engine case protection (I installed these myself, so I know the engine is perfect, no scratches)ASV full length black leversGilles Gear Shift Shaft SupportGI Pro Gear indicator, whiteTech Spec C3 tank grips (removable)MotoBatt battery (higher cold cranking amps)Standard parts included - rear seat, exhaust, levers, windscreen, I have Sato street hooks that I never installed as well.Arthur told me that I have a quick action throttle. I have no evidence of this…CONS - The rear tyre is getting on a bit, will leave choice to buyer, price reflects this.The front mudguard has a crack from a disc lock accident. Not noticeable. Price reflects this. I will take a close picture tomorrow in the sun to detail it.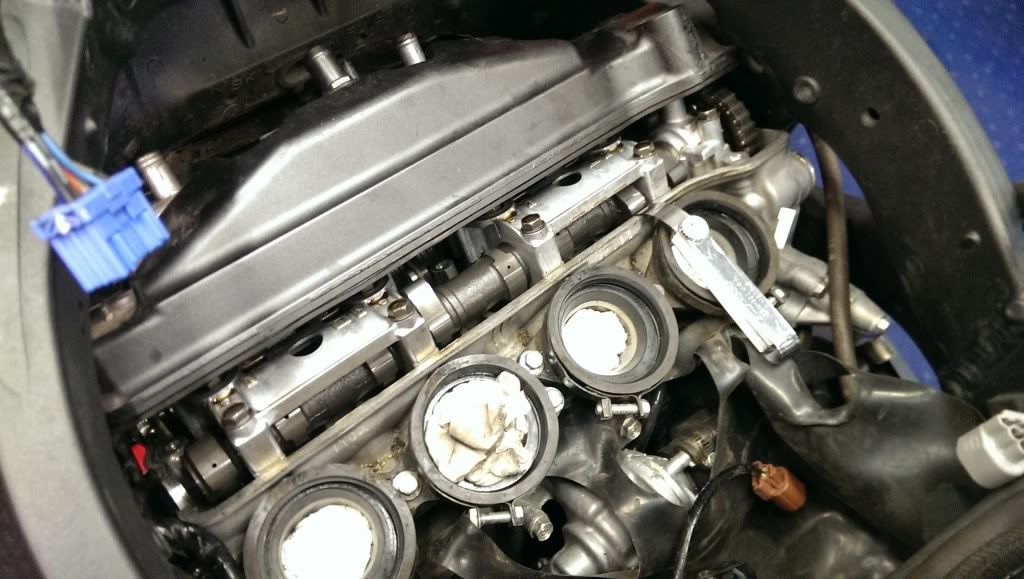 As you can see the engine is as clean as it gets.
I think that's everything… I can take more pics of anything you want… Thanks for reading.Any questions welcome.
PM me if you are interested…