Im torn between the 2 . . . opinions please between the Kwak Z750 and the Yammy XJR 1300???
Definitely the XJR1300! I had one and its a monster!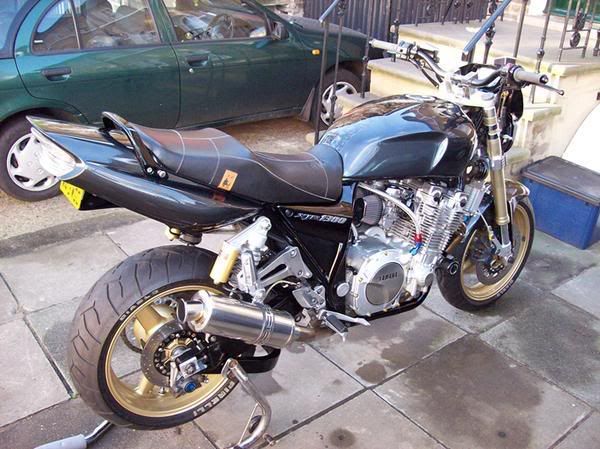 Go for the bigger engine, you will love the torque:)
What happened to the SV and B12 then?:w00t:
Of the two I'd go XJR
Why the z750 and not the z1000 ?
Cant afford the z1000 :crazy: . . . bearing in mind that I commute down the a406 and back everyday, wouldn't the Yammy be less manouverable and less economical?
If you want economic and manoverable what about an XT660 or something like an Africa Twin?
Just a thought:Whistling:
I would have said a C90 ;)Have a test ride on em JZ
Not sure i'm experienced enuff for a brute like a c90 yet mate :w00t:
i`d get the z750 its got shed loads of power and it handles well enuff to keep up with sports bikes round the twisty bits top end is about 140-150mph which is more than enuff plus its a hell of alot lighter than the xjr so would be more manoverable in traffic
the z750 is a hooligan`s bike. it likes to wheelie and stoppie and all the other naughty things you can think of m8 let me borrow his one and was close to buying it of him but i got me gixer instead
the xjr1300 is more of a pipe and slippers bike more relaxed if you like that sort of thing:D:P:hehe:
ooohhh i like zeds…why not a thou tho??
oops just noticed the other posts! zed 750 all the way!!
yamaha all the way on this one even though i am a kawasaki convert xj's cant beat them!!!
I'd go for a 2nd hand Z1000 as both the new Z1000 and Z750 look a bit pump and OTT. The old models had the right balance of funky Japanese styling, the newer models just seem to have been updated by bolting on a load of lardy looking tat and making the engine a little weaker. A nice 2006 Z1000 should be yours for £4000-£5000 depending on the amount of mods.
I'd go for the Z1000 over the Z750, I had a Z750 before the Speed Triple and it always left me wanting a bit more grunt and the rear shock struggled at speed on the B-roads. Nice top end rush though.