So we decided to have a long weekend exploring Yorkshire and booked a hotel in Leeds. First day was great up to Whitby to see the goths and back across the moors.
While we were changing in our hotel room, Sue noticed a rider and pillion in the car park outside our window and for once her paranoia was justified. They met up with a bloke on a moped with no helmet and I ran from the room down the corridor down the stairs. By the time I got to reception they were riding off. The Xena disc lock withstood three mighty whacks with a hammer and the bike was undamaged.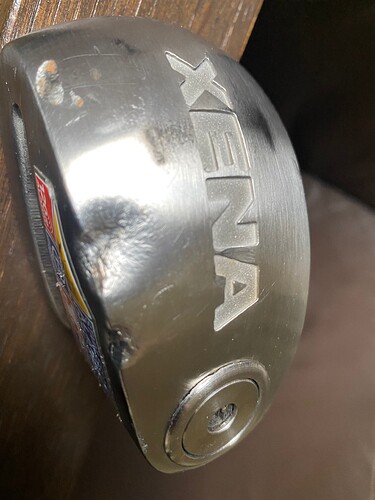 We decided not to wait for them to come back with an angle grinder, cut our losses and come straight home. We wouldn't have been able to sleep with no way of protecting the bike so they stole two nights of our weekend - but at least we were not stranded in Leeds.
I know they were amateurs - who else would go after a Bandit - but I'm pleased that the Xena held up. I'll get another for the other disc I think