I didn't take a photo but Korean beef bowl with rice and peas. Very tasty.
Tonight I've got pork and cabbage. At the moment it's still raw as still need to put little one to sleep.
So… Nothing at the mmoment
There was homemade chili and chips but it's all gone now
Pieces of pork loin with cabbage and shredded carrot. Classic russian dish but in a lean version (only a bit of frylight and lean pork)
Is that what you're eating or what you've thrown up?
Hope you feel better.
Thanks.
That is avgolemoni soup. The cure all.
Mate of mine just got an outdoor pizza oven, it's amazing.
how do you stop yours from sticking when spinning?
Semolina flour or Polenta. Dust the worktop before laying the base down after stretching, and then put a bit on the paddle before sliding under to pick it up. Flour burns, this gives a nice flavour and texture.
Last couple…
Veggetarian mince in a stuffed pepper with Fetta. @pricetta made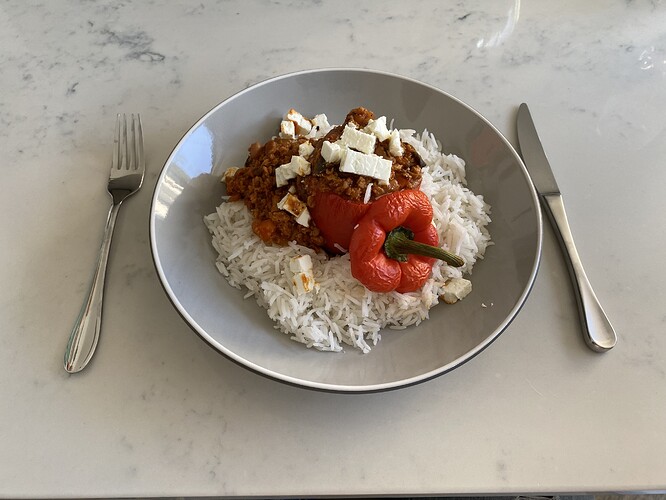 Salad (home-made colslaw) with Bombay Potatoes leftover from a curry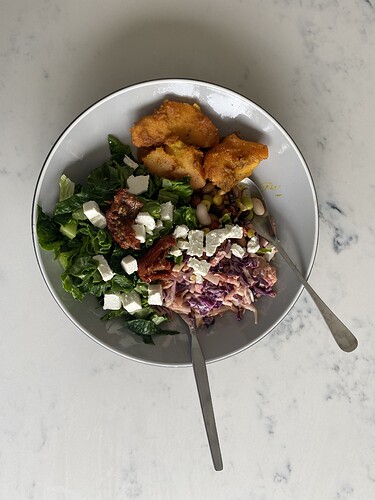 Very nice… An alternative to the veg mince is to just use rice, that you part cook with tomatoes and onions (add a bit of tomato paste) paste and a few herbs, then add some pine nuts into the mix and cook as you normally would.
Get some beefsteak tomatoes and stuff them, keeping the internals to cook the rice in