[quote]
szymon (25/10/2011)
what about all the people STILL telling you to do the full test?
What about them? I'm now happy with my bike, for the winter at least, and when I go to buy a "fun" bike I'll probably do the full test. I don't need to do it right now
[quote]
szymon (25/10/2011)
not so, get a fazer with side panniers and top box and would be more suitable for going away than any scooter, then come the weekend take it all off and you have a fun bike. 1 insurance, 1 tax/mot and only 1 bike to maintain
It's amazing what you can fit on a bike with judicious use of bungees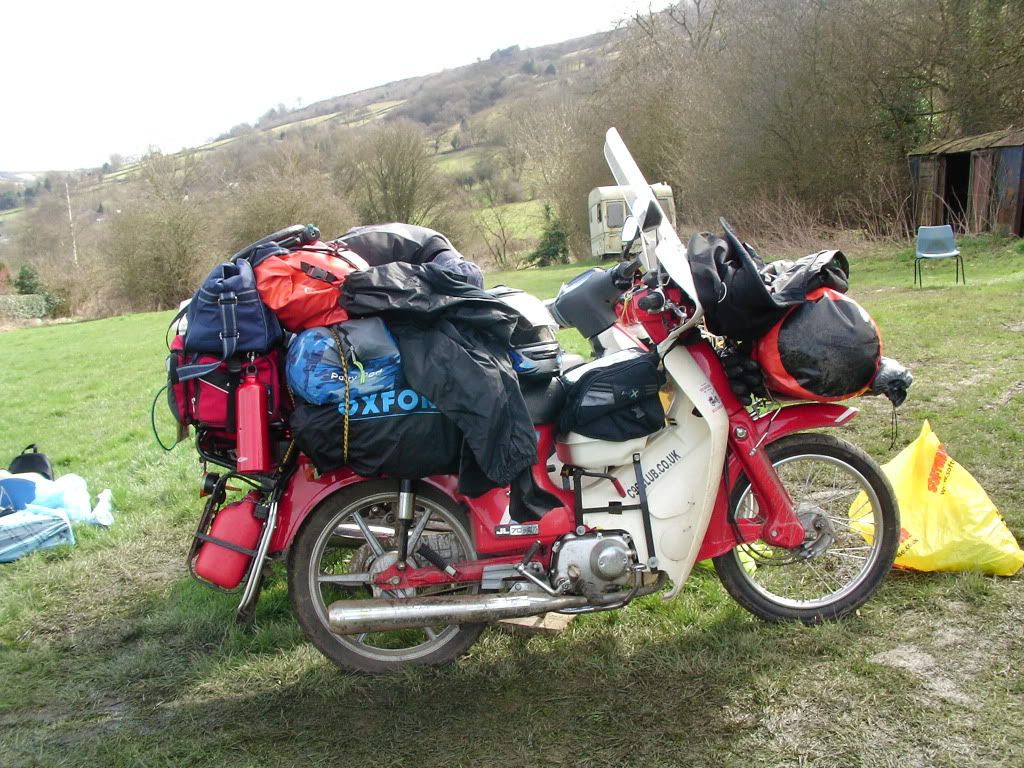 bet that handles like a dream!
i think you forgot to leave space for the rider…
When I go away, I sometimes need to bring three laptops, all the associated cables, smart clothes and smart shoes to wear for five days, casual clothes to wear in the evening, my karate suit to train in, shorts and t-shirt and trainers to use the gym, plus my motorcycle gear. I need the extra space inside the scoot, as well as the 45L top box I just bought off Dan, and a tailbag bungeed onto the back (and maybe panniers too, and a scooter-bag in front).
Yes, I know, I could just take a car. But the whole point is, it's much more fun on a bike. Even if it's loaded to the hilt!
-simon
i assume its as the little sticker says on the front you bought it from doble?
who did you speak to down there ?
i always deal with the sales director and he sorts me right out, i lost £100 on my new 125 in 6 weeks and i even got that back with a discount on other stuff.
you gotta love em there, really friendly and polite coffee on tap, free advice, and to top it off they want your buisness so they can and will budge on prices.
I spoke to Mike Doble himself. Nice enough guy, but he wasn't willing to go any higher than they did with me, it was kind of a take it or leave it. He did explain that they still have to pay the VAT (20%) despite buying the bike back so their starting position is the price of the bike without the VAT. I basically lost VAT+£126 (price of my bike after VAT is £2976, I got £2850), although I also got a £250 discount on the price of the new bike which is how I get to my £620 loss figure. (OK the discount was in store vouchers, but I was OK with that because I planned to buy a bunch of biker gear in their store). I'm gobsmacked that you managed to only lose £100 on the new 125, and make that back in discount, I think you were very lucky indeed.
it did help that #freebitchbaby bought her new 125 there on my recomendation, they also knew that i would only have it for a few weeks and at the time of purchase i was worried about how much i would lose over that period.
i did notice it for sale £50 more than i paid for it new and it had 2.5k miles on it so i think we both won on the deal:D
I got my bike from Dobles. They gave me a very good deal on my X9 250. I was very impressed by the honest no bull approach of the sales team. Can't say I was as impressed by the service Department though. That was over two years ago so things may have changed.
I've dealt with Dobles a couple of time and liked the experiences. Not the cheapest around but the small % extra is well worth it for the service you get in return.
Slow acceleration from a standing start. If it's an engine that's been sleeved down, it's effectively now a "long stroke" motor. (Or at least a longer stroke motor.)
The idiot rule of thumb is that will down the power but maintain, or even improve, the torque. Should be a great load lugger.
[quote]
szymon (26/10/2011)
So it turns out that the "slow acceleration" was a perception thing. The difference is, this bike feels like it's going slower than it is! On the S-Wing, I knew when I was doing 50mph - it felt fast. On this one, 50mph feels like a walk in the park (until you realise you're doing 50mph in a 40 zone and that's why you're overtaking everyone else). I took it into central London yesterday and won a number of "red light races" without actually trying to do so (and without even opening the throttle all the way).
I also had a bit of a race with a guy on a sports bike - and he was amazed how fast it got up to speed. At the next lights he stopped me to ask, but only because he thought I did that on a 125 ;-|
-simon
How do you filter through traffic with that, when you're as wide as two bikes together? What's next, a sidecar?
-simon
because you put a scorpion exhaust on it, and people get so scared its like the parting of the sea's… :laugh: plus you said "when you go away", nobody goes "away" on a 100 mile journey of filtering do they
Glad you have found your torque!
One of the joys of riding an X9/X8/Xevo is that they were made in 125/250/400 (or 500 versions for the X9) and as the bodywork is the same the uninitiated have no idea what you are riding.