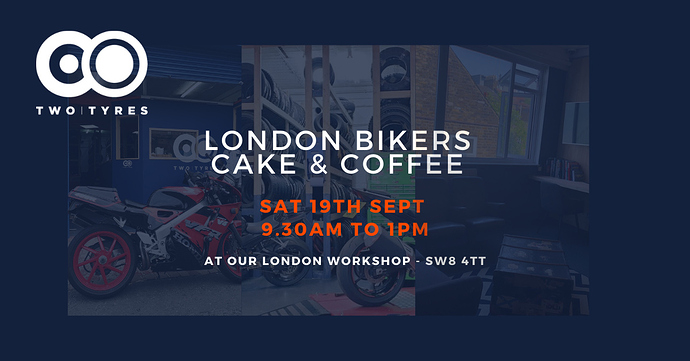 Hi all, Ben from Two Tyres here. We're a new motorcycle tyre specialist in London (set up by former FWR boss, Chris) and myself. We're at twotyres.co.uk
I've been chatting to LB's Jay about holding a bit of an open day for the LB crew to meet up, grab a cake and a decent coffee and chew the fat with some of the LB crew.
We'll be showing some classic WSB races and interesting bike documentaries in our customer lounge and we're offering half-price fitting on all tyres, chain & sprockets, brake pads and oil and filter changes.
We hold over 300 tyres in stock so you can roll up and we'll probably have the tyre you need but if you want to confirm, just give us a call on 0207 205 2205 and we'll make sure we have the tyres or parts in for you.
We can also carry out a free health check on your bike if you suspect there's something not quite right with it or you haven't used it much during lockdown.
We're at 15-17 Clyston Street, SW8 4TT (the old Oval Motorcycle Centre location) and we're open from 9.30am to 1pm.
Even if you don't need any work done, come on down and grab a coffee and say hello. It would be great to see you there!
Ben