Very simple really…what do you carry?, spare fuses, lights, tool roll, phone, mp3 player?
my mate boo carries condoms under his seat. he reckons they are for transferring petrol from another bike if he runs out. i reckon hes just a man slut!!
were the heck do i start :w00t: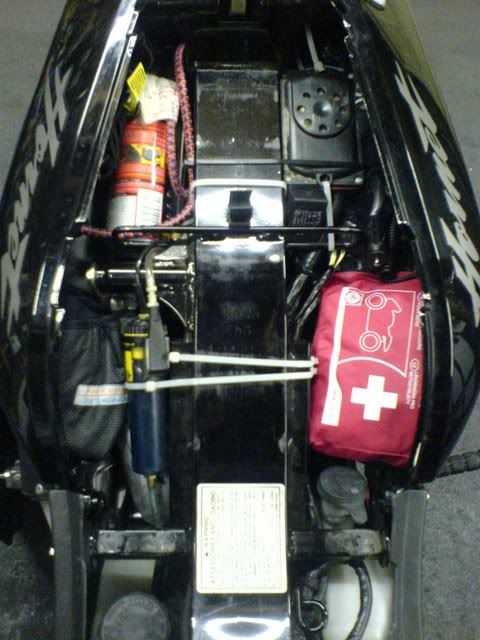 off the top of my head…
First Aid Kit
Tyre Weld
Neck Warmer
Balaclava
Inner Gloves
Cargo Net
Kitchen Sink
Spare (Letterbox) Numberplate
Spare Bulbs & Fuses
Phone Charger
Bath Tub
Spare Smokes & Lighter & Matches
Bungee Cords
Fridge/Freezer
Thats all i had in there as far as i can remember!
wallet
Iphone
Gaffa tape
Cable ties
Toolkit
Optrex eye drops
Balaclava
Waterproof gloves or vice versa
Basic first aid kit
Spare thin woolen jumper
Side stand plate
disc lock
tyre weld
and a first aid kit
:D:D Ah well, you never know when you might have to transfer petrol.
Local scenic tea towel:
Defibrillator
chewing gum
Lucky conker
Inflatable pillion rider
credit card… everything else is obsolete…
Pucture Repair Kit. Small Chain + Lock, Exhaust Baffle, Toolkit. Spare Brake bulbs. Soon to include First Aid Kit and spare fuses.
Torch, mini-toolkit, microfibe cloth, tyre pressure gauge, tyre repair kit, 12v air compressor, first aid kit, chain, allen keys set, snaplight, spare bulbs, disclock & phone charger. All but compressor and chain go in the glovebox, leaving the underseat area for a large bag of stuff for work/lunch.
I have a few tools, waterproofs, a cargo net and bungee cords, cable ties, a small ziplock bag with the number of my breakdown cover and insurance and a £20 note.
I figure if my jacket goes missing or I lose my phone or wallet I am still OK for a tank of fuel and can call for breakdowns etc.
Fücking McGiver man.
All I carry is money. And maybe a hammer depends on if I'm commuting or out for pleasure.
yep jus money for me, and rac membership lol, couldn't get a packet of fags under my seat
for me its a Cloth, Disc Lock, Cargo net, small Tool box…
Excellent now all I need to do is match your reg plate from your avatar to a bike on the street and I'm up…
If you will work that hard for £20 I will give you a job working for me