i say that somewhere recently myself and i must admit it raise a smile.
its a lad off gixerjunkies bike k6 thou.
there's another guy that goes to Ace with a K5 thou and hes number plate reads: R1 2 SLO
I should have a pic somewhere?
-Damian
he will want to sell that plate if he goes on track vs a R1 - There was a ex superbike racer (not naming names) that was challanged by suzuki - yamaha to see which "standard" thou was the best/quickest round three tracks - the R1 won on all tracks - with maximum points - except the cornering/handling on one track (where they were mostly very very long corners that hardly bend!!!)
Road bike GSXR all the way - track = R6/1
Notice they didn't want to include honda???
its got to bring out a competitive streek in R1 riders ay?
i can see R1's trying to pass and boot you off hehe
funny that coz last years gixer cained the R1 on road and track in every test in every mag…
maybe there on the pay roll?
there both great bikes…
surprized flatout hasn't posted here yet - sure he will have a lot to say on this subject - probably hasn't seen it yet!!!
its ok si knows his ride is wack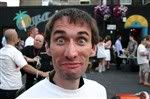 Hahaha, like it
Very nice plate
It belongs to one of the guys off the Boxhill forum. I think he is also one of the owners of the motorcycle centre in Brighton.
Correct Marc… Tis RR's plate
yep its my plate.
as for gixxer vs R1 it would have its hands full vs my gixxer 174 RWHP,ohlins suspension plus lots more
sweet plate runner and welcome to LB, hope you dont mind me posting it up it was on gixer junkies.
Funny coz i saw and R6 ROX plate on my way across town this morrning. (on an R6)
needless to say i popped a mono as i passed him (got to love shell grip in the pissing rain when your running supercorsa's)
The R1 2 SLO plate is sweet too
R1 has gone soft in its old age, still a nice bike but id take a gixer thou over it any day, or even my 750
Yeah i see it already just glad it aint my plate slapped all over the screen what with barros recent escapades with some little shi* running round london with his plate after seeing it on here… now that really would suck
I doubt the scroat saw it on here Flats, most scum like that can't read, let alone use a computer, let alone join the best biking community in the world. Forum pics aren't visible to non-members remember.
yeah ok…
but my ride is wack