How do i update profile and add sig
Click on the 'Control Panel' link on the bar near the top of the page, this will give you a bunch of options on how to customise the site for you. One of the options is for your signature.
I do cannot see a Control Panel link, but would like to update my profile. Any ideas?
Hi baloo, if you look at the top of this page, the third horizontal bar down should have a 'Control Panel' link on the right-hand side. Every member has this.
Jay,
I am struggling with this. I still do not see anything that says Control Panel.
I have attached a screen dump for you to see
Attachments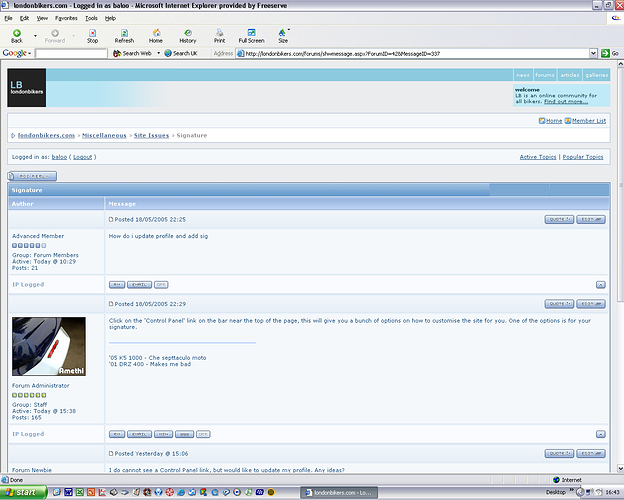 Hi Baloo, can you please confirm that javascript is enabled within your browser? The Control Panel link makes use of this, and this is all I can find that can cause the link not to show at this time. I'm looking into it some more.
If you're unaware of how to check for this, in Internet Explorer, I believe it's controlled through the Security Settings tab in Internet Options. For the Internet zone, you can check the individual settings through there, or if you're a little lost, you can just reset it to the default settings on that tab as well, and this will ensure javascript is enabled. There's no security risk associated with this.
I'll continue to look into it though Baloo.