I've just received this from Knox, and have filled out the survey as suggested: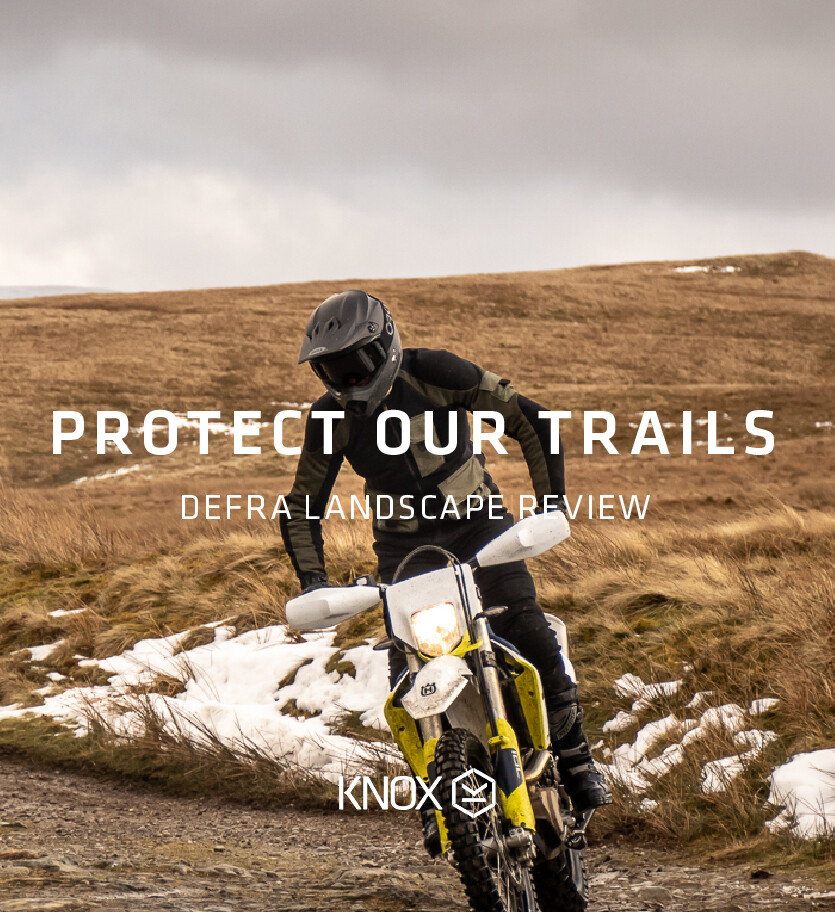 This email is to encourage you to share your thoughts with regards to the Defra Landscape review which has a cut off date of the 9th of April.
The findings of this review have the potential to take away or restrict the already limited motorcycle access to the trails that we have in England, Wales and in our National Parks. You need to respond to this, either by survey or by email. Ideally both.
The link to the survey is https://bit.ly/3u9yDsJ. The email you need to send to is [email protected].
In terms of the survey, the consensus is that questions 13-17 are the important ones and that we should vote for NO more enforcement powers, NO more legislation and NO more restriction.
The TRF have also produced a very helpful guide to help you focus on the key points https://bit.ly/3r3nNCE.
I've put my email response below to give you a bit of inspiration. However, don't just copy it verbatim as this sort of copied response is not normally accepted.
"Hi,
I am responding to the Defra Landscapes review specifically with regards to motor vehicle access to unsealed roads and BOAT's in England, Wales and in our National Parks.
The use of motor vehicles on legal unsealed roads is equally valid as any other activity such as walking or Mountain biking in the way that people enjoy our National Parks. Organisations such as the TRF and their local groups are actively involved in maintaining the trails and all members have a code of conduct that all riders agree to when using them. The use of motor vehicles on unsealed roads is an important part of the local community and economy. This sort of activity brings visitors to the area and important trade for our local businesses.
The ability to enjoy the national parks on a motorcycle contributes to mental health and our appreciation of the National Parks. For people with disabilities, the use of a 4x4 vehicle may be the only way they could access some of the stunning landscape that is only accessible via unsealed roads.
Furthermore, as we have seen elsewhere and over time, the removal of rights of access, more enforcement and restriction will only ensure more illegal activity in our National Parks.
Many thanks"
This is a crunch time for an important part of motorcycling and alongside many others in the industry and those who enjoy riding our amazing trails, please ensure you have your say in this review. Unfortunately, there are people who want to ban the use of motorcycles on these green lanes and in our national parks and we need to make a stand to protect these rights.