I will need to see it for real and hear to the sound before have my conclusion but any new product to innovate and improove what's already good is welcome, in my opinion
It looks like a slip-on, as there seems to be a giant 'cat stil lurking underneath.
looks like someone just rode past a large magnetic thermos flask
there is a two bros one that is very similar, i will find a link…
Nice one Chris, the Yoshi Tri-Ovals are a good exhaust. But I have to say, that Two Brothers one looks pants IMO, like a back-garden cut-down hacksaw job!
yeah, they seem to have a thing for making them look a little garish - american market, after all
Have to agree with Jay, it's shite.
i wasn't recommending it at all, just saying that they are very similar.
I think it would look nice with some Red anodised bar ends to tie it in with the red anodised bolts in the can. an irridium blue screen and some gold levers. Mabey get the rimms polished and get a custom paint job… mabey that paint they use on TVR's that changes colour in the sunlight!!
Some yellow rim tape and a set of those stick on animal ears for my helmet. Sweet!!
i would like to see them on a bike with those coloured tyres. BLING!
the more i think about it, the less i like that devil can (not that i liked it that much to begin with). too round for where it is.
There is a 14 page thread on one of the US Gixxer sites about the K6 600/750 aftermarket exhaust options so there is already some choice out there and the Devil and Two Bros are at the bottom of the attractive stakes. One of the two Arrow options looks pretty good
I have already been on to Racefit and think that might be the way i am going as i want it on as soon as possible like the tail tidy i ordered today. Below is the prototype but its basically unsilenced… so maybe the dealer supplied Yoshimura GP evo will be the key as shown below. Nice and neat and its a full system.
Attachments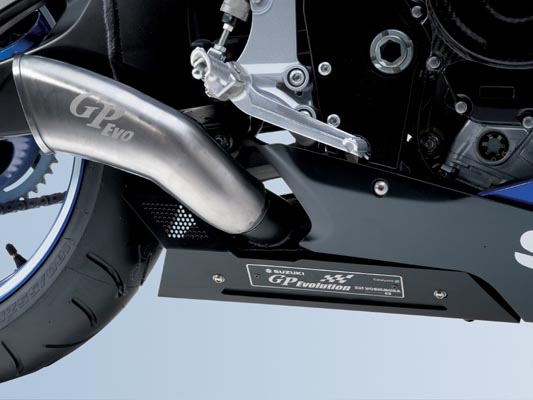 Those two looks MUCH better. Racefit rock, I'd rather support a Brit company anyday!
just fyi - both are unsilenced, they are basically 20cm bits of titanium piping with a slash cut on the racefit.
ah ok, the yoshi does come as a full system, i didn't read that bit… nm, they also do a slip on version of that pipe though.
the laser looks the best so far, aesthetically, out of the others.