Two weeks back on the flip from my Barnard Castle eye test, distracted by a full bladder, I filled up at Scotch Corner A1(M) J53 services same price £1.50 for 95 RON. This weekend is the RBLR1000 and 9 of my 11 planned fuel stops are all off motorway and no more than 1,000 yards off so they won't be time thieves either.
For the future around Bishops Stortford you can save the best part of a blue beer voucher on a tankful of mo'cycle go go juice by peeling off the M11/A120 at junction 8 (Birchanger Services) and taking the B1256 Dunmow Road sign posted towards Takeley where after 1,000 yards you'll find a 24 hour Esso fuel station. It's cheaper, it's less crowded and it's closer to the M11 than the Service Area.
Best fuel prices around Bishops Stortford are to be found at the Tesco fuel station on the other side of the bypass at the junction of A120 and A1184. It's 4 miles off the M11/A120 junction but on route back to London if you're going by way of the A120 and A10.
A year after getting my bike I noticed that, with one exception, I had never visited the same petrol station twice. Obviously I then had to see how long the streak would last, which is 198 unique stops in a row (203 fillings at 202 stations) and still going. Curse you, Twickenham Tesco.
But I have still never filled up at a motorway services, because I am not crazy.
I don't get it… on a long motorway slog, I'd happily pay a little bit extra to just pull off, fill up and be back on motorway, rather than the faff of searching for petrol stations (in advance or on the go) just to save the price of a beer and waste 10mins. Especially convenient if it coincides with a break for a bite to eat.
Of course, if you know where there is one, it's convenient and not far off, sure… but I can't say I know petrol stations that well, nor do I want to waste time to learn them.
I've never bothered looking t the cost.
the average bike has a 15ltr tank & 5p difference in cost your talking 75p a cup of coffee costs more
It's not just the cost it's the principal of hiked pricing. The off motorway fuel stations are shared intel so there's very little time spent in researching them. They're no more than 1000 yards off the motorway which is less yardage than the average service area. This weekend I estimate I'll save £50 on the cost of fuel alone and that's without penalty, I'll incur no extra mileage, no extra time and with refreshments & meal deals also to hand at a more favourable cost.
Maybe I should tax my ride buddies for the intel because I'll be cutting their costs by £50 each too, that's a £200 saving on cost for nothing. Like me old Mum says "look after the pennies…
For some of us money is an object. And having spent £57.91 on 46.1 litres while visiting my dad this week, that is a saving of £11.19 compared to Aceman (capital A)'s motorway price. And that is on a small economical bike.
But it is almost equivalent to every fifth fill-up being free. The effort to include where to stop for petrol when planning routes is pretty trivial, and much better than riding less.
What a day though, the streak now at 200 unique stops, and the bike ticked over 50k miles.
There's a marked disparity in forecourt prices all over the place. One of the worst on the motorway In my travels) is Clacket Lane services on the M25, I passed there once noting it's price for regular was 1.29 per litre and I'd filled up that morning in London for 1.18. That, my friends, is daylight robbery. Remember, that's PER LITRE, 5 litres to a gallon in old money. And my Trident's tank is 25 litres… Plan your journey and spend your money on something else.
On a completely full tank it would cost an extra £2.75.
Assuming 30mpg, that's about 6.6miles to the litre. So your total range is 165 give or take. That's 0.6p extra per mile… If it was 40mpg it would be 0.8
It's more expensive for sure, but is it daylight robbery?
No more than the cost of grub at an event, than the cost of snacks on a plane.
But such is life, a captive audience and a business model that requires significant upfront investment to give people the option to stop where there was nothing else, and to avoid driving into towns to fill up, commands a premium.
For me that cost is justified vs my time spending trying to drive off a motorway on a trip having researched where there is somewhere else. Appreciate that for some this, more carefree, mentality is not an option. But it strikes me the real issue is the cost of petrol, the higher price at one venue Vs another is different.
That would apply to all petrol stations?
Building a petrol station off a motorway requires you to build the roads to get to it with an exit (not for all of them I agree) as a lot might have been build around exits to towns
In town, the roads are there, just need to find a way of getting the pumps in the space.
Also in a town there are several commercial property spaces that may require less work than digging into previously countryside.
Maybe I'm wrong on this, I'm not an engineer/architect/town planner but it feels easier to me to setup a petrol station in town than to put a motorway service station. I just remember passing by the one near cobham on the M25 and it was just a big piece of work. Granted they added an entire rest area with restaurants but I wonder if that's the only way it makes.ot costworthy to do all the work linking it to the motorway
And yes granted the old service stations have likely recouped their costs already…
And on the flip side in town rents maybe higher.
Oh you know what I haven't got a clue. It's just more expensive, pay it or travel round trying to find cheaper petrol whatevs…
My argument is that it's not necessarilycrazy/stupid/ or theft to pay a higher price for a service station.
Use the Esso garage on the A120 towards Takeley 200 metres from the junction roundabout.
Here's my (typical) comparison from the RBLR1000 this Saturday
At Abington Service Area M74(M) J13 they paid £1.51 per litre and just three junctions and 13 miles further along at Lesmahagow Tesco M74(M) J10 I paid £1.28 per litre. and the Tesco fuel pumps are closer to the motorway than the service area pumps, the maps…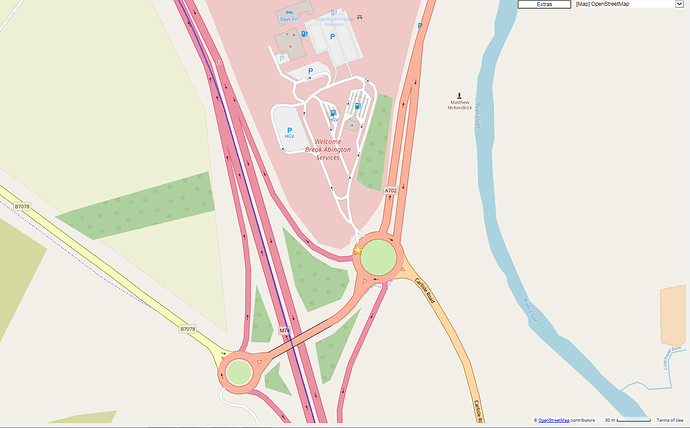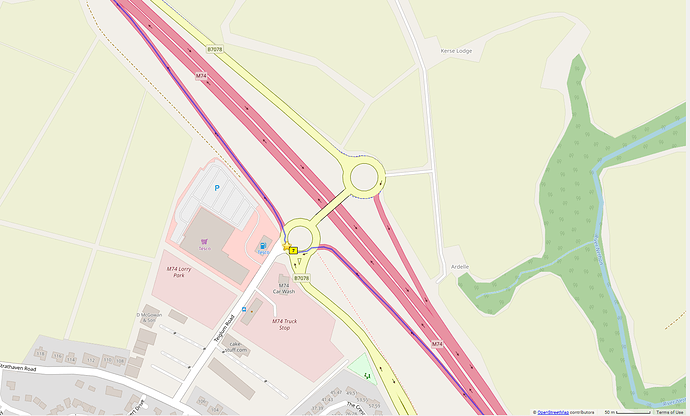 I know the Tesco at Takeley, thanks.
My purpose of creating the thread was to show how shocked I am of that petrol station's price. I generally wouldn't ever fill up on a motorway service station, certainly never in my car, as that would cost me the equivalent of an extra curry and peshwari naan.