220Egypt - this is the closest i could get for you - this is Debz car
Attachments
That is just wrong on so many levels…
NO NO NO NO NO!!
now go to the naughty corner.
Damn she's another beaut. It does look kinda familiar but cant place where.
You're seriously giving me the urge to go buy a Capri . . . gridgirl would kill me
I wanna be with ya when u go drive Grims capri? And Debz? looking at them im so tempted to look for another one, just to play in?..went and got a runaround Sport KA last mth…nice enough…but thats about it…its got all the extras etc but its got no…feel good factor that i got from my Capris…
We've got a porsche 911 (in fact this is about the 3rd now) but theyre HIS toys? im not a porsche fan…i want a jag xk8 but then any jag does it for me, them and the capri? But seeing yours brings back so many memories…oh how i miss that car, its gotta be the 3L tho…
Oh i hate it when someone brings back good memories…cos it rekindles em and u get to thinking…Mmmm now where can i go look at some more? (ha ha, seeing the ol capri owners club outings made me smile to…ah such happy days!)
I've had some Capri's … great fun and as long as you're smooth with 'em, they do actually go round corners.
I'd love a 68 Dodge Charger 427RT … now that's a car!!
I used to own this … its a Gilbern Invader MkIII with stage 2 Rover V8 under the bonnet uprated suspension, full roll cage etc … now owned by one of the guys in the photo … unfortunately, he's put sh!t wheels on her!! … she looked great wearing Wolfrace Mag-slots.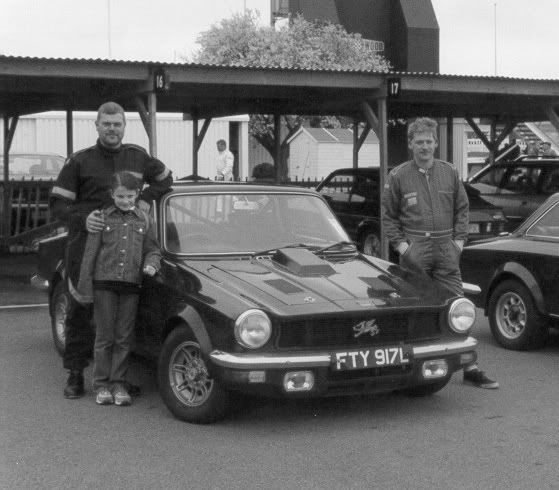 Wrote this off a few years back
, bikes for me since then
Good thing too. Damn then tin boxes!
now whoever is posting HUGE pictures can you edit it so we can all read the text. Ta.
Hey - what are you doing in here - this is a car thread
Before you say anything Foxy started it
this is pics of 2 of our cars the white ones gone in favour for the other? ive got the KA which suits me…
Attachments
Very nice
No wonder your neighbours dont like you
that babys away in its garage and not left out at all…bikes the same…all thats outside is the KA and Mondeo…as long as im getting up at 5:20am every damn day to go to work…they can think what they want…if i was sitting at home on me fat tookas? could understand it…dont bother them, they should learn to not be so jealous, go get a job…blah blah etc etc