so here she is… GSXR 750… street fighter
Just kiddin…
Had some work to do on the front end and its always easyer to take the nose right off…
Front wheel removal tool made by welding to plug sockets together.
That wheel is filthy ay?
Removing Discs, lossening bolts slowly in criss cross patten… not that it matters that much as i "probably" will never use the Discs again…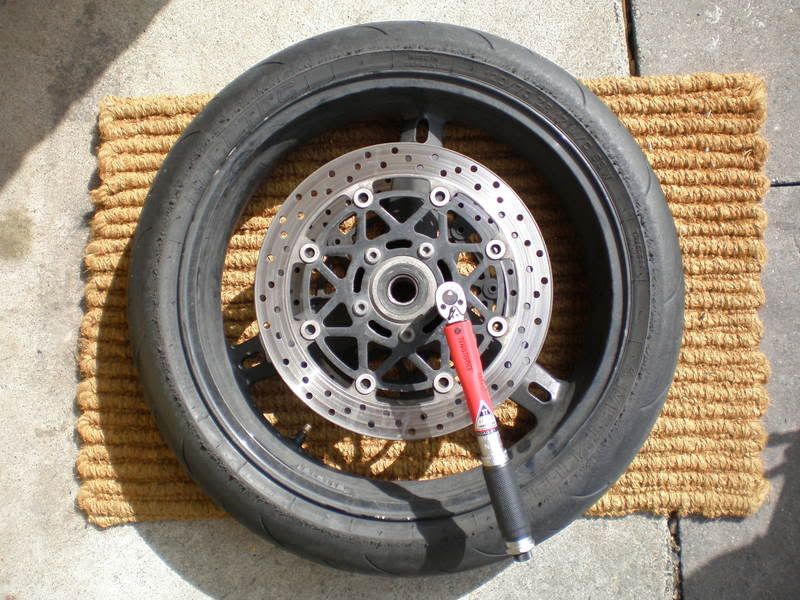 Look how much crud is on the back of the disc!! theres so much crap on the bobins i dout there "floating" discs anymore!!
Disc Mounting surfaces were grime covered and furry, stained from winters use…
Cleaned up with 1200 grit papper…
These little babys are replacing the shagged discs, EBC PRO-LITES…
While Iv got the wheel out its a chance to get some ACF-50 where the sun dont shine to much…
Re set the fork drop threw the yokes Also, The standard Is 5mm mine where set at 8.5 ish…
but after changing the head race bearings and re tightening them a few times as they beded in it was measureng 12mm drop thew yokes !!!
Truning in way to fast for road use, the slightest gust of wind would blow you a few feet across the road as even the smallest of inputs to the bars had a large efect.
So back to 8.5…
Ish…
Thread lock a no brainer for the disc bolts as the go back in…
The end result black tokicos and EBC Prolite discs, looks nice err and works nice to!!..
specially with this at the other end, Brembo 19x18…
And errrmm the most important performance up grade of the whole braking system…
PINK RESERVOIR HOSE !!!
muhhhaaaa bike bling lol