Hi Guys! Just got back from 3 days at Jerez GP circuit. I realise this is similar to the Cartagena thread, but as my Grandma used to say… "You can't have enough ORANGE in your life."I thought I'd start by sharing some pictures:
Slideshow should appear like the shopkeeper from Mr Ben if you click the icon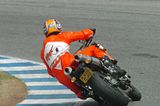 Some stills.
Keeping a tight Apex: One of the fast right-handers at the end of the lap. The superduke could hit this line lap after lap. I made time on most of the race-reps through these 2 corners!
Eyes down look in for another trip on the Orange Express.
I'm gone! (Does my bum look big in these?)
Run AWAY!
I will be a bit more descriptive later, video may follow.