Back at the start of the summer i was Desperate to get the Power Commander on my bike set up on the dyno.
Throttle was snatchy and fluffy… anyways most places were booked up for months so i took it to a place called banjax in east london.
They dynoed it for me and after getting it back i was unhappy with the map that they had made.
I took it back several times they re-dynoed it and said it was fine.
But to me there was no improvment so i gave up 150 quid down the drain…
So anyway the jerky throttle has realy been getting to me so i booked it into HM Racing in kent, who i was told have a great rep.
I guy called dave there was very helpfull and friendly and most off all enthuseastic… you know what i mean? when you feel someone cares as much about your bike as you do…
Well got the bike back today and took it for a 2 hour shake down run.
Id had suspension tweeks done as well (forks fulshed and cleaned,Ohlins springs and oil, and the bike set up for me personaly)
Well the fueling map is Sweet as a nut, im amazed actualy… at how much better it is.
Dave said there was umm some "funny numbers" in that Banjax map not wanting to slag them off.
I am one happy bunny
This kind of work is expensive and not everyone needs/wants to set there bikes up like this. after all we all use are bikes for different things.
If like me you want to make your bike as good as it can be(for going fast)
its amazing what a few tweeks can do…
So anyway heres the graphs and im puting up the suspension settings to so if your have a K4-K5 GSXR 750 and you about my weight 85 kilo's then feel free to try them.
Speed graph (1 tooth less on front 2 extra on rear)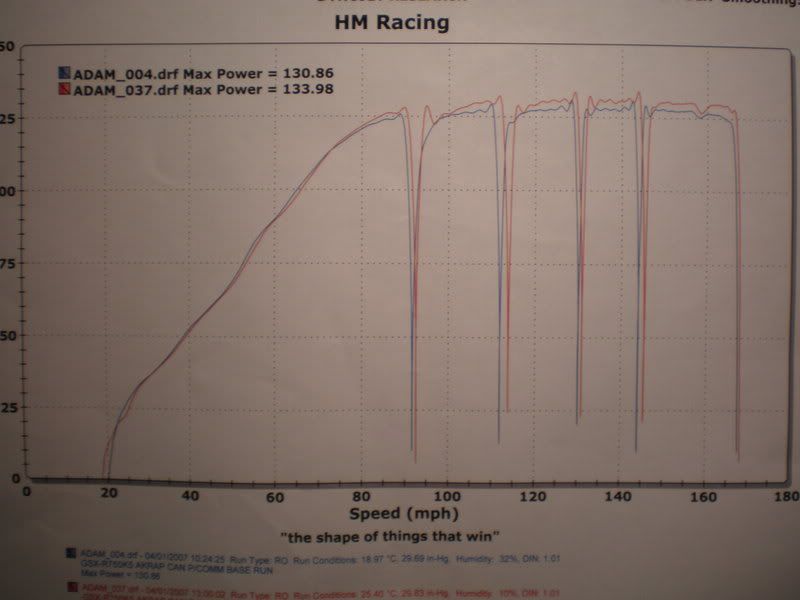 Power run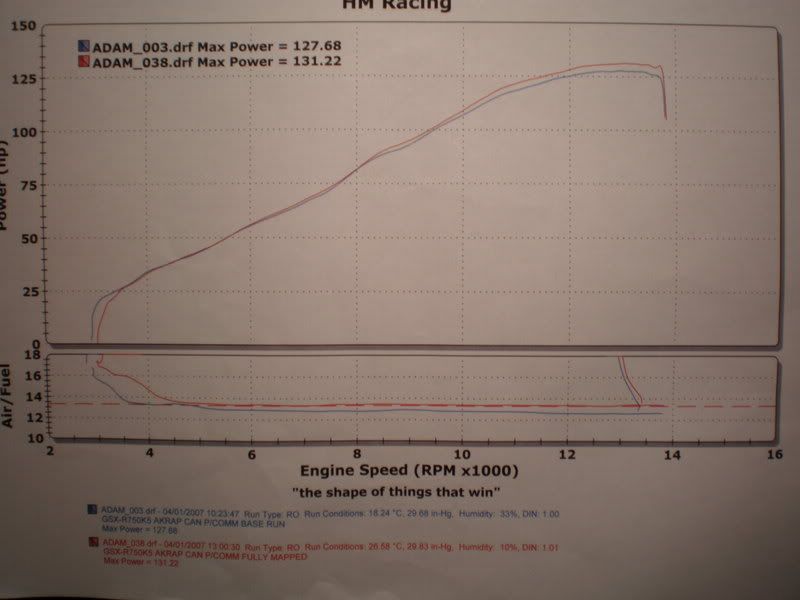 suspension tweeks
*Note
The front preload is set on 1 bar with 8.5n springs and the forks have been dropped threw the yokes by 3.5mm (factory setting in 5mm)
All in All thanks HM Racing… a very nice job…