my heated grips are not working, any suggestions on what to look for/check?
Well I'll go obvious…current? Fuse?
Are they Oxford ones with the digital controller? because mine stopped working as well recently…
Temporarily replaced the controller with a switch while I get a guy at work to have a look at the circuit…
they're ones like this, perhaps honda ones…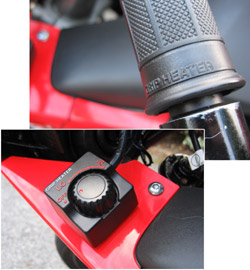 I assume the fuse is within the on/off switch part? if it is I can't seem to take it apart!
My fuse is under my seat on the positive wire - that;s on the oxford ones though
Yeah chase it back to the battery, there should be an in-line fuse