I do dispair at human stupidity at some times
Can't blame him… I'd be tempted too… But then I'd let him push it out or leave it
How embarrassing. Should have taken a DRZ. Nothing can stop those.
What it looks like normally…how the heck did they get over that lip upright ?
Beckstones

If you go up to where the red tractor is on street view it looks like a crossing is possible in normal conditions.
Exactly but look at the lip of the edge of crossing …How the feck did the get passed that not being able to see it !!!
Red is bikes rough position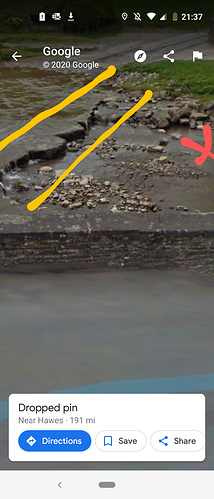 Or if you go 300 yards the opposite direction there is feckig bridge !!
Been there and done that, twice. First time in '76 when the base was cobble stones, second time on the Bonne' in 2012 when the base was concrete. In 2012 it only had an inch or so of water over the concrete base, wasn't even photo worthy. There are slopes at the entry and exit left over from the cobbled base days that lead into the water.
Memories of Ravenglass @Jetstream @brains_t @TDJ @GSXRAng
All the gear and no idea…
Having seen some posts from the riders on the Africa Twin Facebook page from when I had one, this does not surprise me at all!