Who else on here (excluding the ones I know) has a dualsport or offroad bike?
Me. DRZ 400 S. Underused atm
I have a few offroad bikes but they all have pedals…
are you replacing me
Sold my DRZ400 which was a cracking bike!
I have an R1200GS which is dual sport… not that I would take it off road. If I did I would probably drop it and that would hurt. A lot.
@nivag clearly trying to work out his bubble of six to go offroading with
Lol kinda. I know there's a few on here just wondering if any were lurking.
Also there's space for 3 others in a midweek rideout in Kent tomorrow if anyone is free.
PM me
Ah, would love to have come. Sadly work needs doing. Got any more photos/video?
Out of interest where are you allowed to ride offroad bikes. I am assuming that is not a regular bridleway that may have hikers or MTBers ?
It's mostly on what's called B.O.A.T. which are Byways Open to All Traffic, also there's Unclassified Roads which can be gravel/dirt type roads.
Providing those boats haven't had restrictions on them. Finding them is half the fun
Some take the piss suggesting they are for all traffic
Some even have steps in a steep incline
That's true, I rode 2 new ones last week!
The only time I have ever seen bikes off road would have been in wales years ago mountain biking in Wales. And that was a serious trail actually felt a bit sorry for them
Lol - mines a bit big for serious offroading for my skill level.
It's about 50/60kg heavier than most dirt bikes, but it means I don't need a van/trailer to get to the dirt and will comfortably cruise motorway speeds and get me to the Bike Shed
Out with one of the big boys today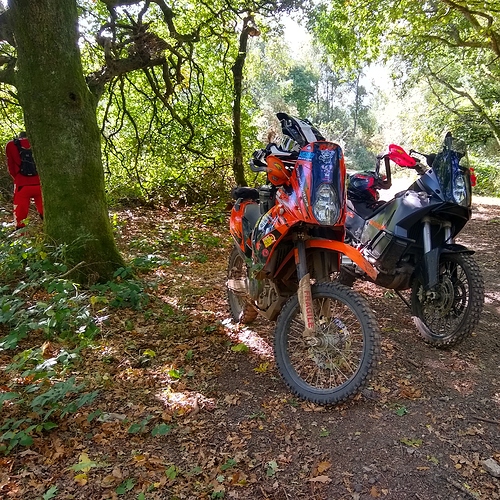 @Stretch
Is that him pissing in the background?
Yup, exposing himself to the outstanding beauty of Surrey Hills
How did the bigun handle the trails?