All notices, thoughts, speculation, news & jokes in here.
As the UK is hit with a pasta shortage, No 10 urges public not to panic buy based on the actions of a fusilli individuals.
I'll be in hospital tomorrow.
Due to the drop in price I'll be doing a case of Corona tonight, 24 bottles but sure it'll go down nicely.
Personally I have to be careful given I have a member of family who is both old and without an immune system. Obviously they have to be more careful than me…
I refused to go into surplus buying mode until the third trip to the supermarket where I couldn't get paracetamol. Given that my wife can't take aspirin or ibuprofen for regular pain, it does limits things somewhat. Now I try to keep a small buffer of that (rather than a stockpile)
Loo roll I don't get… Surely you can just jump into shower and wash yourself??
Managed to get some hand sanitizer as we didn't have any and being on trains everyday I would like to have one…
The biggest wankers are the morons profiteering on eBay and the idiots just trying to grab everything off the aisles.
I'm sure supply chains will catch up soon but it does go to show that we are wankers at heart.
I still believe you are unlikely to get it, and even unlikelier to die from it but it's almost like we have to go into overdrive to try and stop it spreading. Hopefully it will prove to be a massive panic for nothing
Someone sent me a screenshot of hand-cleaner being advertised at £19.99 on the Bay.
I'm torn between thinking it's only a flu and it'll all blow over soon, and two minutes later thinking it's apocalyptic.
There's an 80% infection rate, that's 42,000,000 in the UK. There is a 3% mortality rate, that's 1,200,000 in the UK. In a full blown crisis the mortality rate would be worse because the whole NHS would collapse. Maybe 2m fatalities!
The Guardian ran an article saying masturbation increases one's immune system. I'm taking things into my own hands.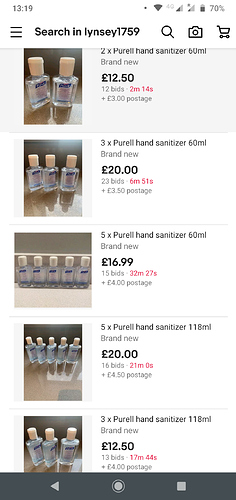 This is all by one person. New account set up for this only… Notice there are bids against these things
I could only capture about a third of items listed on a screen
You still need to wash your hands after that!!
I agree it's more about staggering the strain on NHS and allowing people at risk to be treated.
Work has asked us to WFH until further notice!
So morning blast to Box hill it is!
My team is now on a rotating week working from home and a week in the office. With the team split in two.
Given that no one is travelling will this be good for rideout season. New rule that Helmets must never be removed of course.
But will the cops be out as well?
Nah, they'd be dealing with toilet paper riots outside supermarkets.