you have a rep for mugging people when they come in so its not just me
yeah but you all still come back for loads more
Got to get you off that sofa some how
ahhh but me new K7 Sofa has wheels man!
Attachments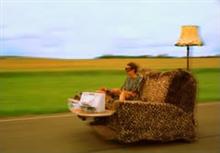 Yeah, fair enough, but if you stuff that's new off eBay you can't go far wrong. I got a £300 jacket for less than a hundred including delivery! It definitely has a large cordura label on the sleeve, but BabyJ is the man when it comes to this stuff, so I reckon he's probably right!
Swear by my Rukka kit for sh!te weather, otherwise I either get wet… or I slip peter storm type stuff over my leathers and that works pretty well. Rode like that from Box Hill to Birmingham in torrential rain recently and stayed pretty dry
Another really good tip is copy the couriers. Many of the couriers who come to the shop (even Charlie) own some Army combat over trousers, really thin BUT they are Gore-Tex and only cost around £40! The cheapest Gore-Tex trousers I sell are £200 with a lining and armour, but if you just want to wear them over leathers they are perfect as you wont sweat in them. I think they do over jackets too but not sure.