@pricetta and I are out for a little bimble. Hardly any bikers out it seems.
Nicely done… It's pretty chilly out there.
At least the sun is out.
Cheers. Yep. It's dry for the most part too. Brap.
Very nice. Christmas eve treat?
Nice pics… I see the GS but where's the KTM?
She's hiding at the far end of the row of bikes
Stealth. Worried about noise police.
Went down the cave to work on the dirt bike, managed 3 hours before I got too cold. Gave up.
No heater? I stuck a 3kw heater in ours because of this. Ends up getting too hot, have to turn it down.
Thought about it when I saw the lovely weather this morning but went for a cycle instead. I have much eating and drinking planned and a bit of exercise was much needed after been indoors looking at the rain for so long.
Heating on, first bottle of Pomerol open.
Happy Christmas all.
nah the heat would just all escape. I gave up doing air heating a couple of years ago.
I had Christmas Eve ride out too. Essex was basically submerged!! So many flooded roads that my collar was soaked when I got home LOL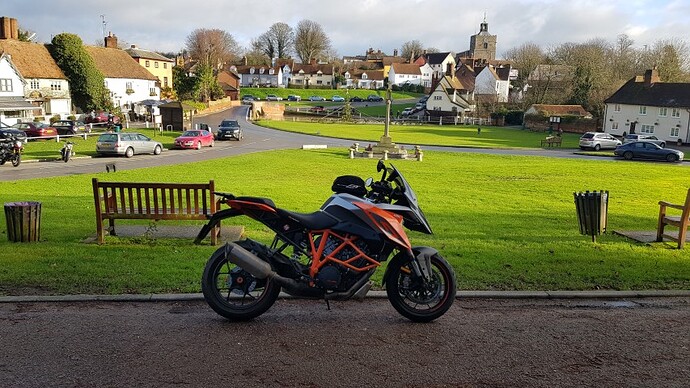 Oh err that's not good! Good bike for it though. I love the Superdukes. Miss my old one. Might be worth a look at the GT!