Depends who's leading the rideout
Fitted the Wings exhaust and tail tidy today. The exhaust is a nice bit of kit had a bedding in period of 30 miles of gentle riding to burn off some manufacturing guff and bed the wool padding in, got that done by going for a ride after work. Ended up at Newlands Corner.
Number plate hanger is one I picked up off eBay. It was the only one I saw that retained the original tail light which is a really nice bit of kit so would have been a shame to lose.
Will take some proper pics and share the installation process on a dedicated thread soon. Some teasers for now…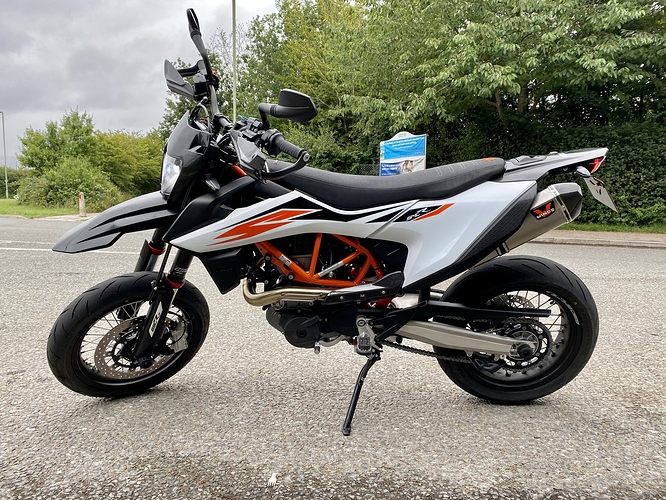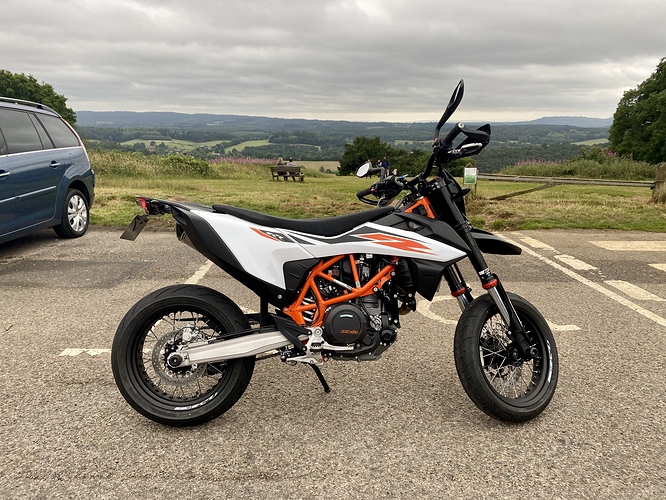 That exhaust is a vast improvement

Same with plate hanger
Very nice, love newlands corner!
You doing decalset next?
Thanks guys.
Next is looking at thinking about replacing the mirrors. Where do people get the circular ones that attach to the handlebars?
I got some generic bikeit round mirrors plus an adaptor, a bolt and some washers
The adaptor goes on the handlebar, the bolt and the washer in the adaptor, and then the mirror clamps the bolt.
I never had mirrors on mine… Tbh you get used to it very quickly
just got a renewal quote of 499 for both bikes…
will have a look at getting some other quotes
That's not bad.
I bought the mirrors, ta.
same here … or live with just one
great number board !!
wish i'd done that on the 950sm !!
keeping all discussions in one thread
I recon the reason the rear end keeps sliding on corner exit is that the tyres are from 2014?

should you replace a 6yr old tyre ?
I think that question is one you'll get a dozen different answers to
If it was me, I'd probably replace them, if only because in those six years, tyre technology will have moved on and newer tyres will almost certainly be grippier.
Firstly though, when traction is an issue, I would check the tyre pressures first, make sure they're not too high and then look at suspension setup as it could be a suspension issue, not tyre issue. @B might be able to comment.
yeah since we chatted tyre pressure is per manual.
Might be worth @B having a look anyway to set it up for my weight
I type tentatively as a "tyre topic" can be prolonged haha.
The tyre manufacturers often suggest a 5 year rule to replace them but If the tyre has been stored correctly and just fitted in recent years and not showing signs of excessive wear or aging then I would not have any issues using it beyond that.
As for handling issues, that can down to a combination of reasons. Tyres being one of them and its the first thing I check before I do a set up.
If you need any help Pan, let me know.
Hmm that's the issue. The bike is new to me so unsure when tyres were fitted or how it was stored.
Might go through the receipts I got with the bike
or do a burnout to justify replacement