Cheers all, much more test rides to be had
.
Street Triple, Tuono, Superduke and MT-10/9 all sound interesting!
Totally thought this was today. Was all looking forward to a ride. Doh! Convinced @pricetta to go out for a ride on the DRZ instead (she'll take the KTM).
Dont discount the cb1000r. It's a really well sorted bike
I had a good look at the CB1000r, very stylish, cool for knocking about town but would you want to go any distance on one?
Are you thinking touring type distances or just say a decent 3 to 4 hour slog.
Yesterday I did about 2.5 hours on it and it was good. Only thing is that my calves were a bit cramped cause the foot rest are slightly higher than I am accustomed to, but i will get accustomed to that. It definitely needs stomp grips to help keep you off your wrists.
Little things like cruise control, hill start and quick shifter makes it easy to relax a bit when you get tired. But its no tourer!!
Truth is you can tour on anything, 3 or 4 hours a day over a week takes you a long way from home! Back in the day I rode my XT350 to Israel, thought I'd done the impossible until when disembarking the ferry I saw an UK registered Vespa two up getting off too, all of 200cc I think.
My bike has a quick-shifter and I was skeptical about it at first; my previous bike had almost telepathically good clutch-less upshifts, so couldn't see how a quick-shifter could improve on that. But it makes a big difference on a long ride because the downshifts are also done without using the clutch. My previous bike had a heavy clutch lever.
I do wish it had cruise. I know many would consider cruise to be heresy on a sports bike but there are times, especially living around London, where you need to be able to plod in the last bit of the A3, or A40, at a steady pace.
however reading through the manual, (yeah yeah I know real blokes don't read the manual) and it says that you shouldn't downshift with the auto blipper at high revs close to the limiter, which I will never really get to. In those cases you should use the clutch, But its a God sent two hours on my previous gixxer and I wouldn't be able to make a fist with my clutch hand.
That's a trip and a half, never had the appeal to tour, it always looks good on paper but fatigue and riding just don't mix for me. Its takes all the fun out of it. Backache, calfache, handache, headache
And a huge smile on your face
Went to France for a weekend and it was great!!
Touring is great, been years since I last did any on a bike but can't wait to do some more.
In the meantime it's breakfast in Greenwich
Looking like the start of something beautiful.
Timezone pun intended?
Oooh, I should have thought of that!
After grabbing a new set of earphones, @Jay and I dropped by Ducati to see if I could test ride the V2, just purely out of interest, like I mentioned. Sadly their demo bike isn't available at the moment, but they're going to get in touch with me when it arrives in a couple of weeks.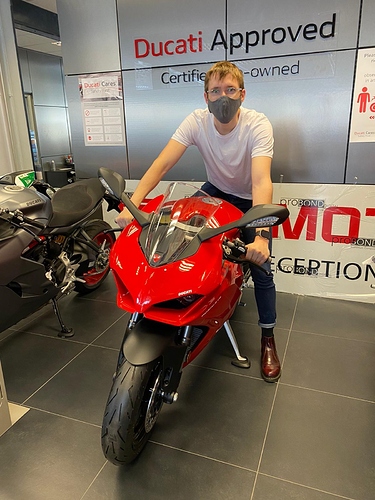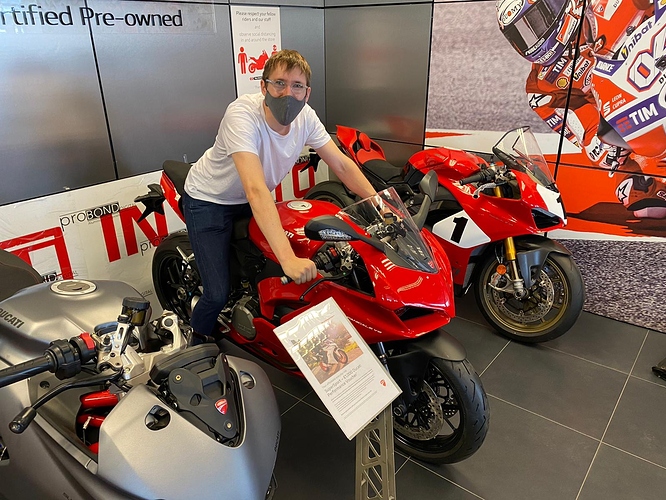 TBH I think that was the demo bike but when he saw your non-biking boots he changed his mind
Would be really annoying if this is the case. I'd be happy for him to straight up tell me that and I'd come back with my biking boots.
This sort of thing is kinda what I mean when it comes to knowing how getting demo rides works. Kind of a pain. Can only imagine that they get a lot of time wasters and knobbers in asking to test ride.
That said I don't have an immediate intent to buy this exact bike, but with encouragement I'm sure I'll end up on one sooner or later. I'm here to be sold to. Exactly what @Michael748 and I were talking about a few messages above.
Bought my MT-07 when just popping in to get a helmet
, they (Capitol Moto) seemed to get it.
I was just teasing
They're straight-up at In Moto. I think they're just suffering from a lack of stock atm so hard for them to engage you properly.
The sales guys are understandably short sighted. It's all about what they can sell now not the long game. In my twenties I used to test ride all sorts of bikes, the best test was the then new beaky GS 1100 from Park Lane. I had no intention or means to buy one but they let me out in Central London for a few hours - I had the best time all over town, Kings Rd, Chelsea Bridge, up and down kerbs… pretending it was mine.
Forward to a month or two ago and I'm all grown up (old!) and standing in a BMW dealer taking an RT out for a demo. I remembered that test years back and thought how smart and trusting they were because here I am all keen on the RT. Which I bought!
Except that I bought a Honda instead. But I could have bought an RT!
2003 Suzuki VanVan 125
2012 Honda CBR600F
2018 BMW S1000r
… eyeing up new beast now…