im gonna pop up there for a burger and a cuppa…
anyone fancy?
smiled:D.
Would love to mate, but I will be sort of s hagging the woman in the house oppersite mine in about a hour. Great view, nearly pulled the curtains down the other night
hahahahaha
fair play mate…i'll be up there at around half 8…
smiled:).
Blimey she must be rough if Terry is getting hold of her.
ive got a picture of her here…i think i know her!!:blink:
smiled:D.
Here she is.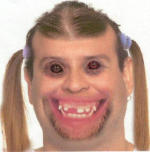 not going now…cant be arsed
smiled:D.
What's ET short for?
Cos he's got little legs:D