Or is it?
She has got terrible posture !
+1 she looks preggers. Still would though
Quite obvious neither of you two are married, posture/pregnant?? I would be on that like a fat kid on cake!
Or this…
Or this…
Well, married for 25yrs and yes I would be all over it like a rash… posture and all :Wow: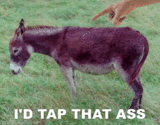 needs a bit of work, the pants were left behind.
come on, someone tell us about her back doors and how they'd get "smashed in" :crazy:
Hmm, sorry, I've not even seen her house, I would like to take her out for a Nando's though…
I win…
Not worth it's own thread, so I'll add it here…
I give you hula-girl!