Question about the air to fuel mixture in carburation/injection that's been bugging me - why do some sportsbikes have obvious air intakes/scoops e.g. my old ZX7R with two big holes each side of the fairing feeding ducts which go directly into the airbox - whereas other sportsbikes like the Yamaha Thunderace the air box sits under the tank with no big scoops/ducts feeding into it and just a modest air scoop showing?
(I know these bikes are very old school and not cutting edge - but I'm interested in the different approach to induction)
Looking at the two examples you would think that the Ace would be positively asthmatic compared to the Kawasaki - but this is obviously not the case - so why the difference?
ZX7R AIRBOX (underside - two holes at the front for the intake ducting)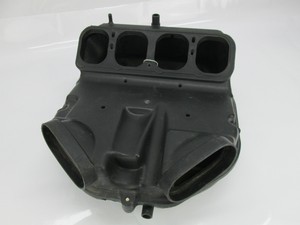 Ace airbox (just a modest scoop on the top that sits under the tank and is not connected to anything)