Just a couple of my bike in the showroom before i picked it up !
Attachments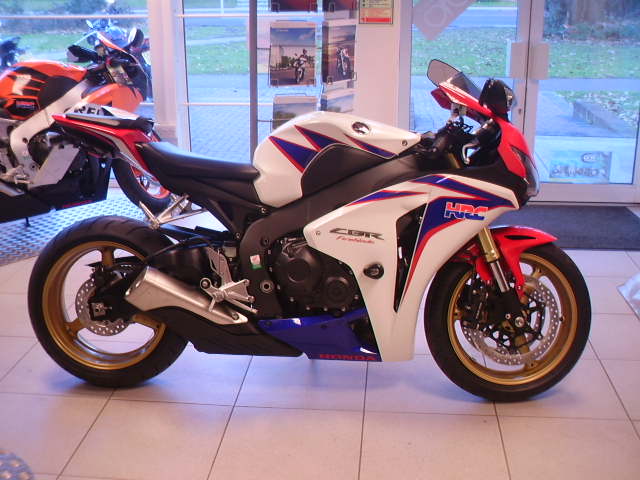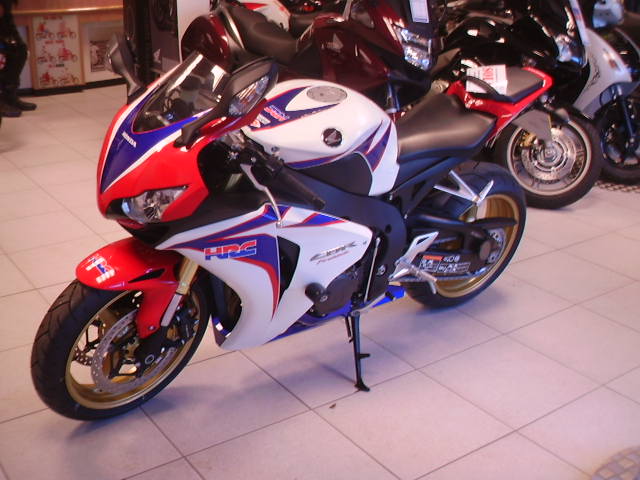 From P&H in Crawley?
Nice. Like the HRC cols. One of her ears is folded back.
Yeah thats it done me a good deal sales department is great but there service department is crap just after i picked it up found a stanley knife wedged in the underseat compartment,then the first service took nearly four hours and put enough chain lube on to do about five bikes would buy another bike from them but would never use the service department again !
Nice bike! I have the 09 Repsol and think they are great to ride
nice bike dude…ive had ago on ricky's…:D.
atleast it looks more like a gix in them colours than mels;)…
smiled:).
Oh yeah, I'd forgotten about that
Cracking bikes, love the '10 HRC colours :P:D
Here's a pic for comparison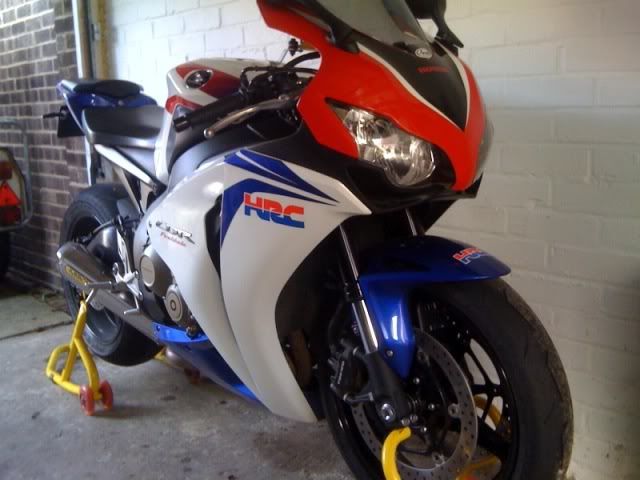 nice bike and im sure it goes like stink but i prefur the old model
solid black is the best option in my opinion !
It certainly does, even BLADE88 nearly chucked his custard on mine on wednesday at the oakdene :D:D
Pegs off next…
Attachments
Will get my pegs of first even if i have to use a hacksaw lol !
The race for peg removal is on my friend!!! :D:D
2010 black one… if i can figure out how to attache it…
Attachments
Is this your bike zeepony? or are you holding it hostage in an abandoned old building?
Yep, she's mine. I like to keep her in a basement Fritzl style…
I had the ABS Repsol blade for a while but the ABS had loads of issues and they swapped me for a 2010 black one. It's taken me a while to come round to the black but now im loving it! I put a gold chain and sprocket on too which is a really nice subtle mod to match the wheels and forks. Oh and a stainless Yoshi R77 sounds the business!
Do you have any mods planned for your beast??
chris
Oh by the way, regarding the pegs - check these out…
http://www.satoracing.com/08cbr1000rrstreethooks.htm
You can install these nifty little street hooks and if you need to put the pegs back on, 2 mins with a spanner and there back! Def getting some of these.
The hooks are a great idea…
So far, as she's new… i've done the R & G tail tidy, and the black Puig screen, I'm thinking levers and pegs next?
I was looking at the ASV levers in black - standard length though, i dont dig the shorties.
I'm going to post on here soon to anyone with 08-10 blades that i can render out a 3D model with all desired colour schemes and stuff for peeps who are thinking of doing mods n stuff.
So let me know if you want to see what any simple mods will look like and i'll do you a pic.
Im really slack with time though so dont expect it anytime soon!
This is a base 3D model in white…
Attachments