This bike is now sold.
2000 FireBlade 929 RRY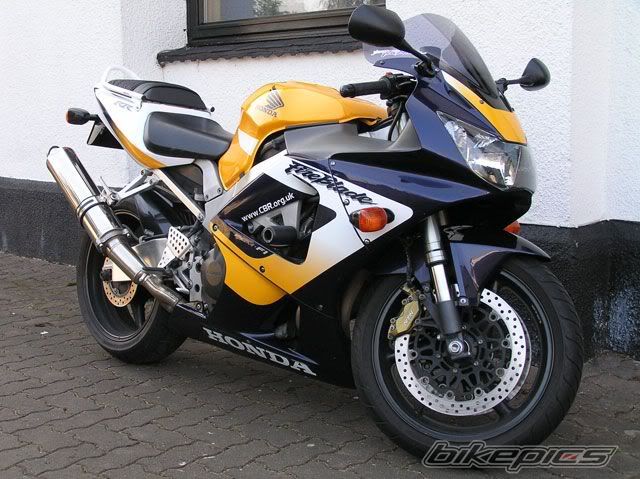 Well, in order to raise funds for purchasing a Blackbird, I need to sell the 'Blade.
I'm after £2700 as it's pretty low mileage for the year and in very good condition :). I know it's not the best time of year to sell, so if I can't get what I need, I'll have to wait until Spring (which is a shame, 'cos I've seen a Blackbird locally with low mileage and full luggage!).
18k miles (only done 9k in two years!)
Service history (last serviced at 16k)
11 months tax
MOT around March
Pyramid "carbon look" (plastic) hugger
MRA double bubble screen (slight scratch on one side, was on it when I bought it)
Michelin Pilot Road 2s front and back, fitted as a Christmas present last year, both still have lots of tread left
Never tracked, knee downed
or crashed
Scorpion race can (unmarked, very subtle) and original can too
Renntec grab rail
R&Gs
Anti-slip pillion seat cover
Copious (and I mean copious) boot space to house toolkit, spare visor, sandwiches, wallet, phone, keys, cargo net…
There are a few sticker bits missing, but nothing major, just a bit of the yellow on the nose around a screw where someone's over-tightened it and a couple of nicks in the FireBlade logo on the side
It's a German parallel import and has an oustanding recall for the clutch basket. Not a problem though, as parallels are still covered by Honda for recalls. I just never booked it in as the clutch has been fine.
Unfortunately, the CRGs are provisionally spoken for, so I'll be putting the standard levers back on for sale.
End of an era. Hopefully the start of a different and maybe better one.